RBdigital
Note:
Audiobooks previously available through RBdigital have been shifted to the Overdrive/Libby platform instead.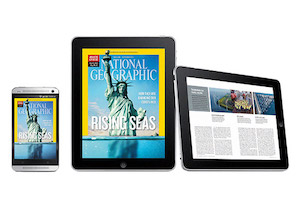 RBdigital offers digital magazines and streaming videos to enjoy on your tablet, smartphone or computer.
Download as many magazines as you want — and keep them as long as you want.
Gain unlimited access to Acorn TV and Qello Concerts for up to 21 days per month.
To use this free service, you need to live in Boone or Callaway County and have a current Daniel Boone Regional Library card.
How do I get it?
Borrow and read magazines using your computer's browser or the RBdigital app on mobile devices.
Visit DBRL's RBdigital site or download the Apple iOS, Android or Amazon app.
Select the Register option.
Enter your library card number and required information to create your RBdigital account.
After you have registered, you can borrow and download to read your magazines offline.
FAQs (magazines)
How many magazines can I download?
You can download an unlimited number of magazines, but you are limited by the storage space available on your device.
Do I have to return magazine titles once they are downloaded to my device?
No, the magazines will remain on your device until you decide to delete them. To remove or restore RBdigital titles, click on the Edit button in the RBdigtial app or edit your Reading List in your RBdigital online account. To remove RBdigital titles, tap the X on the Magazine Cover, or choose Return next to the Read button.
I checked out some titles using a computer's browser. How do I now use the RBdigital app to read or listen to them offline?
Make sure you have logged in to the RBdigital app (for Android, Apple devices or Kindle Fire) with the same username and password that you created when signing up for RBdigital (or Zinio for Libraries, if you were a Zinio user). Once you log in, your magazines will automatically appear in the app.
FAQs (streaming video)
How often can I access the streaming services?
Each check-out allows for unlimited access to the streaming service you chose for seven days. You can check out a pass up to three times per month. When your pass expires, you can just return to RBdigital to check out another one.
Does a single pass grant me access to all the streaming services?
No, each pass only applies to the chosen service.
How do I access the streaming services?
Visit DBRL's RBdigital site or use the app. Tap on the image of Acorn TV or Qello Concerts on the home screen or menu. For Acorn TV, then tap on any series preview. Tap on the Checkout button to gain a 7-day access pass. The service will open in your desktop or mobile browser and confirm your access. You will have to create an account for the service if you do not already have one.
RBdigital Introduction
More help