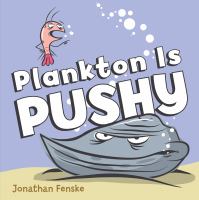 Plankton likes to say hello to all his fellow sea creatures, but what happens when Mussel doesn't return the greeting? Plankton gets pushy!
Jonathan Fenske's book, "Plankton Is Pushy," is a 2018 Missouri Building Block nominee that is entertaining to read aloud and requires a bit of acting. In order to get Mussel to talk, Plankton tries everything from lecturing him to begging. The surprise ending will leave you and your audience giggling. Although this book is written in conversational style, many of the pages have no words at all. Readers must rely on body language and facial expression alone to understand the character dynamics. This is a great social skill for younger kids to learn!
After you've finished reading "Plankton Is Pushy," you and your little one can create an ocean themed sensory bottle. These are great for exploration and also a good way to calm down, especially when one might be feeling a little pushy!
What you need:
Clear bottle

Water

Blue glitter glue

Silver glitter

Shells or small ocean themed toys

Green food coloring (optional)
What you do:
Fill the bottle with water, and add the blue glitter glue and silver glitter. Put the cap on the bottle, and shake it. Wait to let the glitter glue dissolve.

Remove the cap and add the shells, toys and a few drops of food coloring.

Glue the cap on and enjoy the ocean!
Credit: Little Bins for Little Hands
Once you have read at least five Missouri Building Block Picture Book Award nominees, help your child vote for their favorite.