So you know I always write about books that are coming out this month right? Well, publishers like to be ahead of things, so if you're grumpy about my autumn books and 9/11 pick, blame the publishers! Just kidding, you don't actually have to blame anyone, just enjoy being extra prepared with your new book options!
Picture Books
"Bartholomew and the Morning Monsters" written by Sophie Berger and illustrated by Ruan Van Vliet
Mornings can be hard, but they become even harder when mischievous monsters disrupt your routine. Bartholomew loves his nightly wild rumpus with his monster friends, but they all had so much fun that they decide to stay instead of leaving in the morning. From swallowed alarm clocks to tiny monsters hiding in his toothpaste tube, Bartholomew is confronted by chaos at every turn. As his morning breaks down and leaves him in tears, Dad is quick to step in with calm words and love. Little ones have big emotions that may seem to come out of nowhere, and I love the explanation of silly monsters. This book is a wonderful example of how to move forward after a bad morning, without ever becoming didactic.
---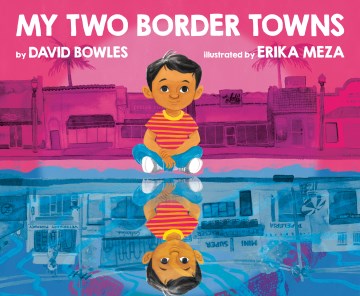 "My Two Border Towns" written by David Bowles and illustrated by Erika Meza
A little boy and his father live in Texas and head across the border into Mexico every other Saturday to run some errands. They get breakfast at their favorite restaurant, then visit various shops as they work on their to-do list. After playing soccer with some cousins, they get back in their truck to head home. As they're crossing the bridge that divides the two countries, we see the real purpose of their errands. All of the groceries, medicine and supplies they've bought goes to the refugees camping out at the border. Waiting to be admitted into the United States, and unsupported by Mexico, they receive the kindness of the boy and his father with gratitude. This is a beautiful illustration of life on the border that doesn't flinch away from weighty topics.
---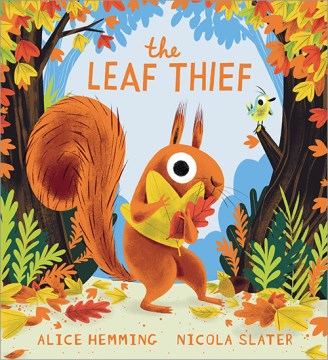 "The Leaf Thief" written by Alice Hemming and illustrated by Nicola Slater 
For these next two books, we're jumping ahead into fall! This first book is filled with hilarious dialogue that would make it a great choice to read aloud. Squirrel loves to admire the leaves on his tree, especially now that they've changed to beautiful colors. But when he notices that one of his leaves is missing, he panics. He's determined to find the culprit, and questions all his neighbors as more leaves go missing. Little ones will love laughing at Squirrel's reactions, and a note in the back of the book explains the science behind falling leaves.
---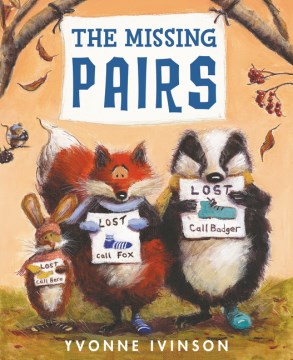 "The Missing Pairs" by Yvonne Ivinson
It's a cold autumn day, and some of the forest animals are missing important personal items. Fox can't find his other sock, Hare is missing a mitten and Badger has lost his other boot. They make signs for their missing pairs, and Bear helpfully tries to take them to a solution. Unfortunately, pairs and pears are not the same, as Bear discovers when they arrive at the pear tree. Eventually the mystery is solved and the pairs reunited. Readers will delight in looking back for clues in the cozy autumnal illustrations, maybe even prompting a quick re-read. Definitely put this on your to-be-read list for when the weather and leaves start to change!
---
Chapter Books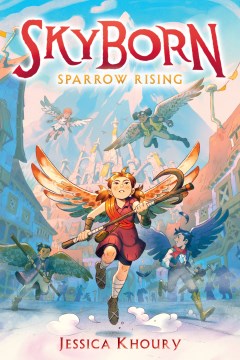 "Sparrow Rising" by Jessica Khoury
I love a good series opener, and this fantasy is off to a promising start. Ellie lives among the Clans, where everyone has bird wings, and your wings determine your social standing. As a Sparrow, Ellie is expected to become a farmer, but she aspires to join the Goldwings as a warrior. When she attempts to attend the Goldwing trials, she's faced with discrimination because of her background. On her way to try a different qualifying race, Ellie meets Nox and his friends, a collection of outcasts. As the group travels together, they're thrown into an adventure that will change Ellie's view of her strict, caste-dominated society. I made this sound kind of cheesy, but this book is packed with exciting aerial action scenes, complex world-building, and excellent commentary on relevant social issues.
---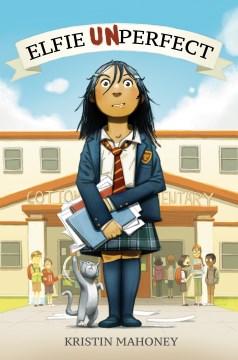 "Elfie Unperfect" by Kristin Mahoney
Elfie is a rising fifth grader who is very academically driven and thrilled to attend a prestigious prep school, leaving her old public school classmates behind. But when she's expelled the very first day after getting into an argument with a legacy student, Elfie has to return to public school and figure out how to get along with others. She's always cared more about her grades than making friends, but as she slowly learns to see herself from others' perspectives, she realizes she can do a lot to improve her interactions with her peers. Elfie's first-person narration is truthful and compelling, and watching her shift from loving perfection to loving her community is incredibly rewarding.
---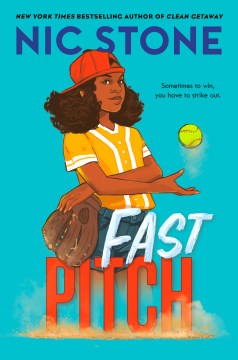 "Fast Pitch" by Nic Stone
Shenice loves playing ball, and as the captain of her all-Black girls softball team, she's determined to lead them to the championships and prove they deserve a place on the field. When a game goes poorly and she needs some encouragement, her dad gives her the baseball mitt of her great-grandpa—who almost made it professionally as one of the first Black MLB players. When Shenice finds out that Great Grampy was kicked out of the league for a theft he didn't commit, she finds her focus torn between clearing his name and leading her softball team to victory. Part sports story, part mystery and filled with historical details about racism in baseball, this book has a lot to offer.
---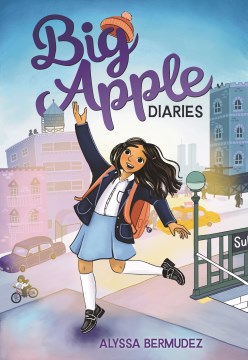 "Big Apple Diaries" by Alyssa Bermudez
I thought we'd finish with a graphic memoir. We're coming up on the 20th anniversary of the September 11th attacks, and this diary style graphic novel takes place in the time leading up to and after 9/11. Alyssa is a middle-schooler living in New York City, trying to balance her grades and aspirations to popularity while dealing with her parents' divorce, discrimination for her mixed Puerto Rican heritage and unwelcome facial hair. Based on the author's actual diary entries from the time, she truly captures the awkwardness and excitement of middle school. When the World Trade Center is attacked, her reflections on life post-9/11 are especially poignant. The style of this graphic memoir will appeal to fans of Raina Telgemeier, and the historical perspective is perfect for those wanting to read a first-person account of life surrounding the 9/11 attacks.