It's July! Which means it's the perfect time to sit poolside and read some awesome new books from your library. Here are a few of my favorites that have recently come out. Enjoy!
Picture Books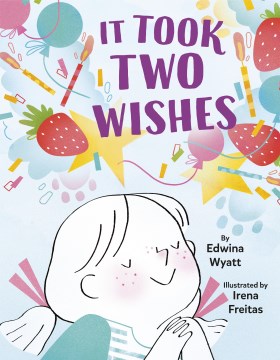 "It Took Two Wishes" written by Edwina Wyatt and illustrated by Irena Freitas
Do you remember the excitement of waiting for your birthday party? The main character in this book has been looking forward to her birthday for "twelve moons" and measures the time it took to make the invitations in hours, smudges and sandwiches consumed. This book is full of surprising measurements, which is a great way to reinforce numbers with little ones. As the family heads to the park for the birthday party, the event is tragically rained out. But on their way home they find a lost dog, and search through the park until they find the owner. The grateful owner invites the birthday girl to their house, and their party supplies and birthday cake get to be enjoyed after all. This sweet and delightful book models staying positive even when dealing with disappointment.
---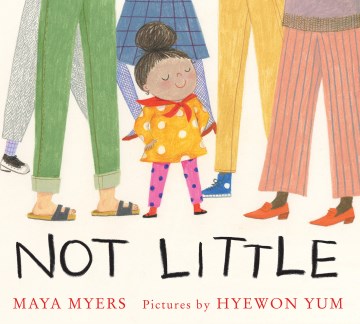 "Not Little" written by Maya Myers and illustrated by Hyewon Yum
Dot may be small, but she detests being called "little." She's the smallest person in her family and her classroom, until a new kid, Sam, arrives. When Sam is harassed by a bully at school, Dot intervenes. Despite a racing heart, she stands up to the bully, who of course asks, "What are you going to do about it, little girl?" Her response is predictable and satisfying. What I especially love about this book is that it clearly reflects on Dot's emotions. When she's being talked down to by grown-ups because of her size we feel her indignation. And when she's challenging the bully, she notices her own fear but fights back anyway. If you need a book about bullying this would be a great choice, especially for smaller kiddos.
---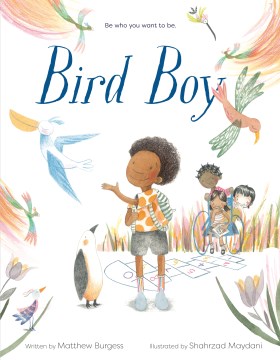 "Bird Boy" written by Matthew Burgess and illustrated by Shahrzad Maydani
Here's a different take on dealing with bullies. Nico is new at his school and knows that he doesn't quite fit in. He prefers watching insects and enjoying the sunshine on his face to playing sports with his peers. His stillness outside eventually encourages birds to visit him, and his classmates quickly dub him "Bird Boy." While the insult stings, Nico reflects that being a Bird Boy could be a delightful thing, and his imagination soars as he pictures himself as various types of birds. A classmate soon recognizes his kindness and authenticity, and the two become friends. I'm not saying that things always work out this way, but the way Nico embraces his own free spirited nature and rises above the bullying is really inspiring.
---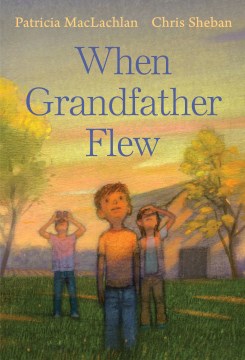 "When Grandfather Flew" written by Patricia MacLachlan and illustrated by Chris Sheban
I've written before about books that deal with grief and loss, because I think they're such an important part of a child's reading experience. Even if you're not dealing with the loss of a loved one, taking the opportunity to normalize death and talk about it before it comes up is so valuable. This gently illustrated book describes a grandfather's love for birdwatching. He and his grandkids watch birds together outside their house, and eventually his eyesight gets too poor to see the birds. Then the grandkids describe the birds to him and he identifies them. When he dies, his family is comforted by his favorite bird, a bald eagle, flying overhead. The text is spare and the illustrations are beautiful, leaving plenty of space to discuss the story with your child.
---
Chapter Books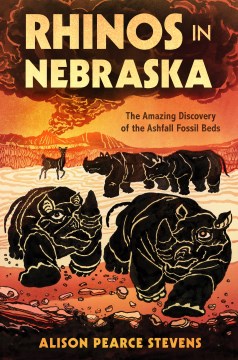 "Rhinos in Nebraska" written by Alison Pearce Stevens and illustrated by Matt Huynh
I know that I don't often highlight nonfiction, but this looks too good to pass up! In 1953, a young farmer in Nebraska discovered a rhinoceros skull, giving scientists a glimpse into the Midwestern landscape 12 million years ago. Soon more and more fossils were discovered, beautifully preserved in ash from a volcano explosion in modern day Idaho. The author describes the process of the excavations over the decades, giving a fascinating look at the tools and concepts scientists use to understand the past. This book is a great reminder that paleontology isn't just about dinosaurs! For an added bonus, if this really captures your child's imagination, the excavation site in Nebraska is part of a state park that is open to visitors—just a road trip away!
---
"Josephine Against the Sea" by Shakirah Bourne
I'm jumping into fantasy for this next book. Josephine is an 11-year-old living in Barbados with her widower father, and she dreams of making the boys' cricket team. Jo loves living with her dad and is determined to prevent him from dating any women who might try to replace her mom. She devises elaborate pranks to drive them all away, until her father brings home a mysterious woman named Mariss, who proves much more difficult to scare off. In fact, Jo is more scared of Mariss than the other way around. Unsettling things begin happening in the house, and all traces of Jo's mom are slowly being erased. That, combined with Mariss' hypnotic effect on people, convinces Jo that she's some kind of mythical water creature. She researches various Afro-Caribbean legends and myths as she seeks to fight Mariss and rescue her dad.
---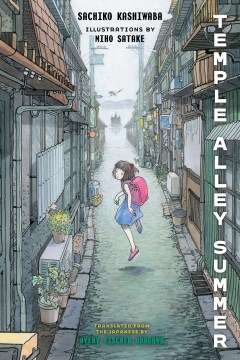 "Temple Alley Summer" by Sachiko Kashiwaba, illustrated by Miho Satake and translated by Avery Fischer Udagawa
It's not every day you get to read a book in translation, and this Japanese import is a great option for those wanting a supernatural mystery. Kazu lives in an old house on a street called Temple Alley and is astonished one night when he sees a strange girl dressed all in white leaving his house. Thinking she's a ghost, he's even more surprised to see her sitting in his classroom the next day, especially since his classmates all claim to have known her for years. Wanting to investigate, Kazu makes it his summer school project to report on the history of his street and house, and uncovers a legend about bringing the dead back to life. He teams up with the mystery girl, but the more they discover, the more the adults in his town try to stop them.
---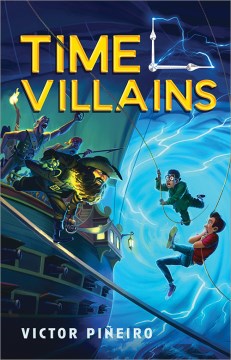 "Time Villains" by Victor Piñeiro
For something completely different, try this irreverent fantasy debut. Javier is a middle school student with a dinner party assignment to complete. He has to invite three guests, living or dead, to a dinner party and then write an essay about it. The assignment is going great, until Javi uses his family's antique table for his dinner party. Turns out the table is magical, and actually summons his dinner guests to the present day. This is a problem when one of the guests is Blackbeard, and he's bent on summoning the rest of his crew and conquering the modern world. As Javi and his friends try to force Blackbeard back into his own time, shenanigans ensue. Be prepared for a fast-paced story with pirates, disguises, hilarious narration and plenty of historical Easter eggs. Think "Bill and Ted's Excellent Adventure," but with more piratical villainy.