Eight years ago to this very month, Bookmobile, Jr. started traversing the streets of Mid-Missouri. You might be surprised to see how much this little guy scoots around town. Read on to find out where our wondering Bookmobile, Jr. tends to travel.
Child Care Centers
Did you know that Bookmobile, Jr. visits more than 25 child care centers every month in rural areas in Boone and Callaway Counties? He visits centers both big and small, bringing books right to the front door! Teachers and kids can check out books,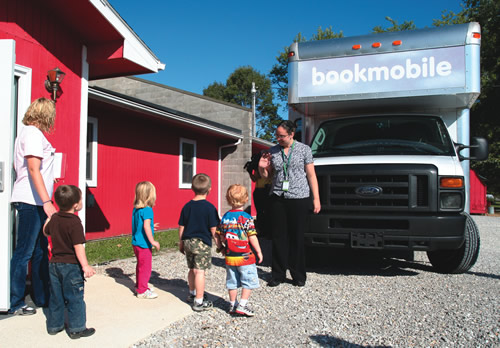 and DBRL staff entertain with fun story times. Over the eight years that Bookmobile, Jr. has been in service, we have done over 2,800 story times; that's a LOT of stories!
Special Events
If there is anything Bookmobile, Jr. loves, it's getting out into the community. On a typical day, Jr. will get back from a childcare center and then immediately head out to a community event that very same night! Over the years, we've been lucky enough to be invited to some incredible community events, including Family Fun Fest, Tons of Trucks, Ashland Fall Festival and so much more.
Literacy Nights and School Events
Bookmobile, Jr. is quite popular at school events around town. He loves going to school events that promote reading and STEAM education. Plus, what's better for a school event than a truck full of books?
Youth Outreach
On top of all these other visits, we also have a few monthly neighborhoods visits in Columbia. Here's the full schedule for Bookmobile, Jr.'s neighborhood visits.
If you have an upcoming event that Jr. would be perfect for, submit a request. He books up fast, so don't wait!