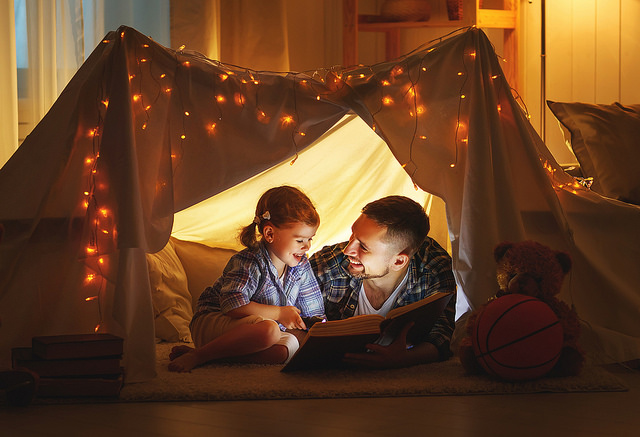 This time of year, I can't help but dream about all of my favorite summertime activities, especially camping. There's nothing better than setting up a tent, sitting around a fire, and telling spooky (or not so spooky) stories with those you love. However, it's not always ideal to camp outside with your little ones when it's too hot or too rainy. The next best thing is to bring the fun inside and camp indoors!
Steps for a successful indoor camping trip:
Set up camp
Grab the necessary supplies to build an epic indoor tent. This might include an actual tent, or you can simply use chairs and blankets. Not only is it exciting to transform your living room into a campsite, but it is a great way to encourage kids to practice their teamwork and communication skills. 
No campsite is complete without a campfire, so there are several options for you. Either set up your tent in front of the fireplace, turn on one or two lamps or find a virtual fire on your preferred streaming service to supply you with the right lighting and magical crackling sound.
Grab snacks
In the mood for s'mores? Being indoors doesn't have to hold you back! Use your microwave, or roast marshmallows over the oven. For a healthier alternative, you can make ants on a log. Simply put peanut butter on a celery stick and top with raisins or chocolate chips.
Choose your stories
I'm not particularly good at making up stories on the spot, so for those of you like me, DBRL has got you covered. We have great picture books and short stories for young and old campers alike, each with varying levels of fright. Here are a few of my favorites (from not scary to slightly scary):
Audiobook short stories include:
Photo Credit: Family in Tent by socialmediasl444 via Flickr