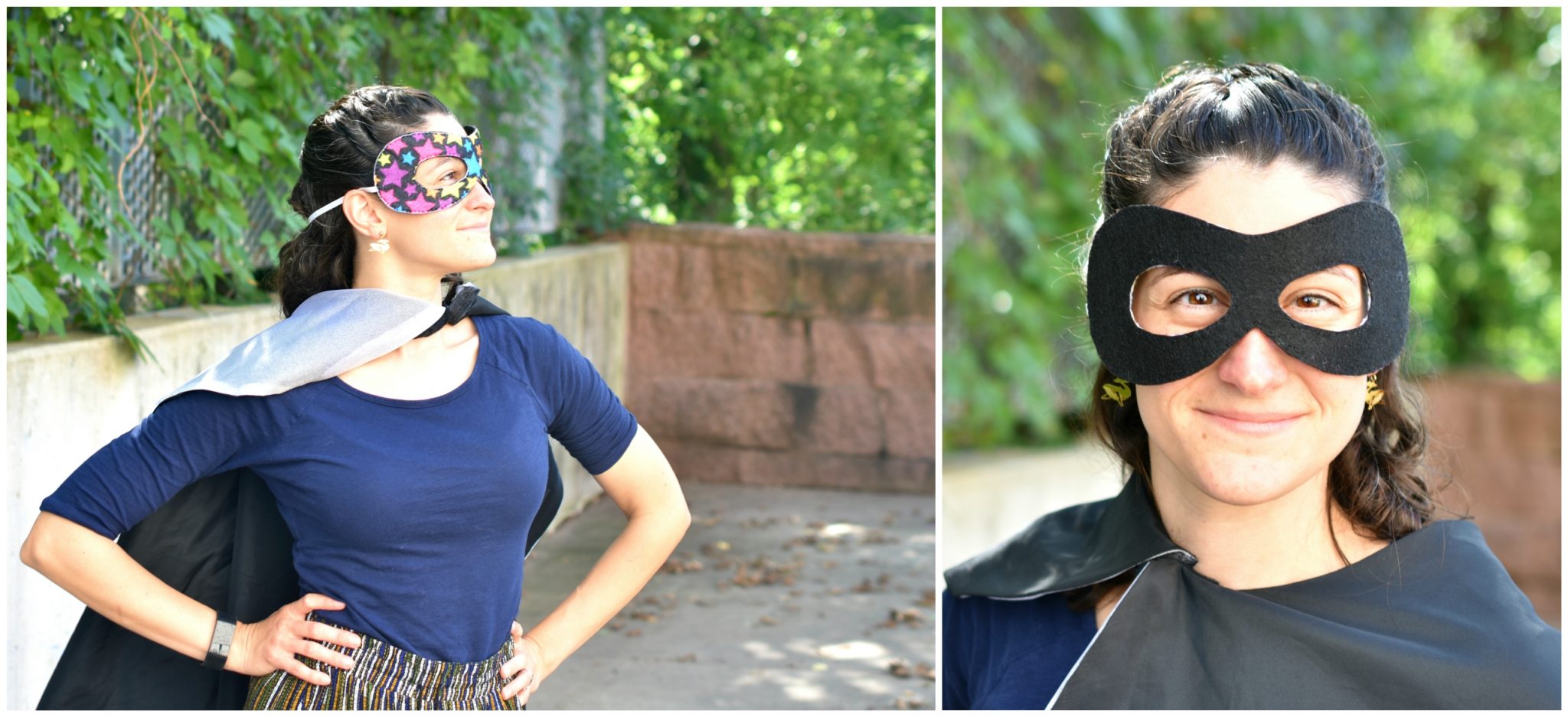 Five days left before the library Cosplay Con, and you still don't have a costume? Never fear, the library is here! We've got a plethora of great beginner sewing books to help you bring your costume to life. After all, hand sewing isn't just for adults—kids can do it too! Hand sewing develops fine motor skills, builds finger dexterity, unlocks the imagination and is a cheap, screen-free activity. My favorite thing about sewing is that it spans across all generations. There's nothing cooler than finding a project that kids, parents and grandparents can all do together!
Don't yet know what character to cosplay? Be your own superhero! Check out our quick reversible superhero mask tutorial below.
What you need:
Superhero mask pattern

 (printed)

Scissors

2 different colors of felt

Metallic sharpie

Thread

Needle

Elastic cord

Pins
What you do:
Print out the superhero mask pattern, and c

ut out the pattern.

Trace the pattern on both of your pieces of felt with the metallic sharpie.

Cut your pattern out of both pieces of felt.

Cut off two threads that are the length of your arm span, and tie them together at one end.

Thread your double strand of thread through the eye of the needle, pulling thought about one inch. Your knot should be dangling at the other end of the string.

Measure and cut a piece of elastic cord that goes from one ear to the other.

Pin both pieces of felt together, with the elastic secured approximately above where your ear will be, once the mask is placed on your head.

Now you're ready to start sewing! 

Using a simple

running stitch

, sew around the border of the mask. This part is going to be the most time consuming, but it's easy to master after only a few practice stitches.

When your child gets to the end of a piece of thread, tuck it between the two pieces of felt, and tie a knot. Then thread your needle again and keep going!

Once you're finished, take a picture of your new superhero and their super sewing power!