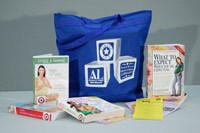 Pregnancy can be a wonderful, joyous time you will cherish for the rest of your life. However, it can also be a baffling and sometimes uncomfortable process. If you or someone close to you is an expectant or brand new parent who could use some guidance and information, Daniel Boone Regional Library offers a wonderful resource called Parent Packs.
The Parent Pack kits are available in English and Spanish, and they include books about pregnancy and parenting, a yoga DVD and a set of pamphlets for you to keep. The pamphlets include a list of books for children about new siblings, as well as information on breast-feeding, child safety and getting assistance from social service agencies.
Everyone who checks out a parent pack will also receive a free copy of "Read to Your Bunny" by Rosemary Wells, thanks to a generous donation from the Assistance League of Mid-Missouri. "Read to Your Bunny" is a charming little book that displays the joys and benefits of reading to your children for 20 minutes a day.
Want to see more of the library's resources for expecting parents? Check out these books or these videos on the topic.