Love STEAM crafts?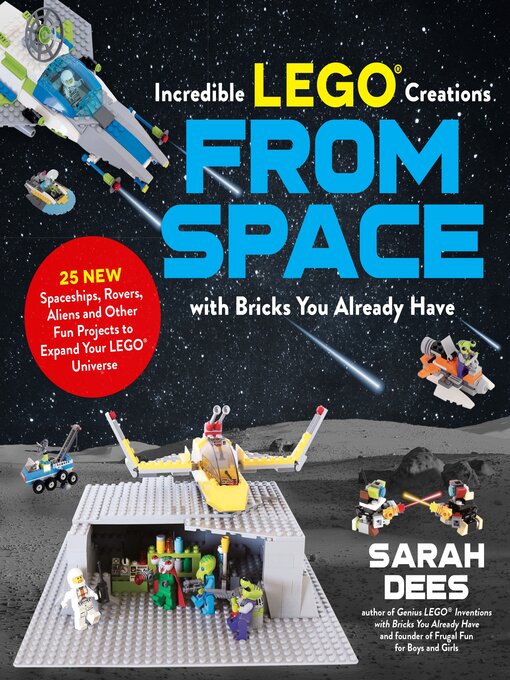 When I need craft and STEAM ideas, I usually look through my trusted social media sources for new ideas. Pinterest is great, YouTube is good if I need to watch a how-to and often I'll go through DBRL's free online resource Creativebug for guidance and ideas.
However, earlier this year, I came across this magnificent Baby Yoda LEGO® project. That Baby Yoda is just the cutest, right?!
This adorable construction was found on a website called Frugal Fun for Boys and Girls, created by Darah Dees, a homeschooling mom who dedicates her blog to super-fun projects and activities. These are the categories that she has sorted her blogs into:
Want more LEGO® resources?
Feel free to grab Sarah's books from our collection or place a hold on them! So far, she has four different LEGO® books filled with fun creations.
"Incredible LEGO® Creations from Space With Bricks You Already Have"
This spaced-themed book focuses first on the types of bricks. To make sure that the directions are clear, Dees introduces the names of the bricks and where to find the serial numbers (in case there is a need to purchase additional bricks or replacements.) Build space ships, rovers and more!
"Genius LEGO® Inventions With Bricks You Already Have" 
Need some robots for your intergalactic
conquest? Bring these droids to life with your STEAM creations! See how far your set of LEGO® bricks can take you!
"Epic LEGO® Adventures With Bricks You Already Have"
Dees works through each creation as she would with one of her children, keeping beginners in mind. Her step by step instructions display the types of LEGO® blocks and how they go together for cool creations like dinosaurs and aliens.
"Awesome LEGO® Creations With Bricks You Already Have"
With this creative book, you can transform your living room into a kingdom with knights prepared to fight a mighty dragon!
Whatever your adventure, these books will help you create masterpieces! Have fun!