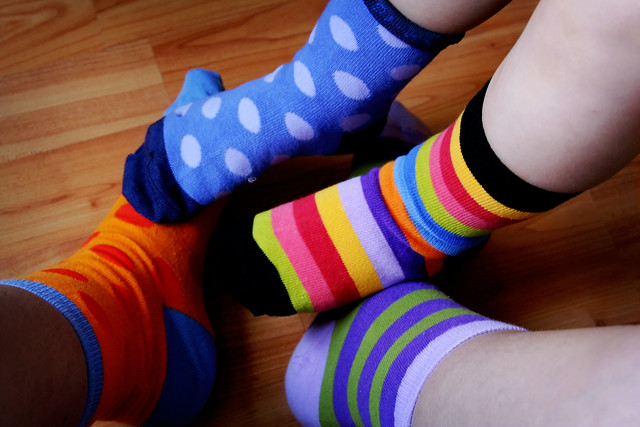 They say a person loses over 1000 socks in their lifetime. What happens to all those socks? Did they disappear in the wash? Did they unexpectedly make a vacation without us when we were packing to go to Grandma's? The animals in our households suddenly look a little too innocent. Did the dog take one of them and use it as a chew toy? Has the cat stowed away a collection of them in a nest under someone's bed?
No matter how they disappear, losing a sock is a hard thing for a family. In order to help our community cope, I want to celebrate with some sock-themed literature. It's time to hold your favorite socks close—the fuzziest of the fuzzy socks, the softest of the cotton socks, the brightest neon-colored socks you have—and enjoy some of these fun reads:
"
I Lost My Sock!" – P. J. Roberts
A cute story focusing on animal characters. Fox has lost one of his blue socks. He asks Mr. Ox to help him find it. They find all sorts of different socks in different patterns and sizes.
"Have You Seen My Blue Socks?" – Eve Bunting
A small duck has lost his brand new pair of blue socks. He sets off on a journey to ask all of his close friends if they have seen where they might have disappeared to.
"Where's my Sock?" – Joyce Dunbar
Pippin is having a bad day. He lost the match to his sock. Tog tries to help him find it, but as their journey progresses, they can't seem to find the match to Pippin's yellow sock with red clocks.
"A Pair of Socks" – Stuart Murphy
A fun story told in the perspective of a sock. The sock cannot find their match anywhere!
"
Fox in Socks" – Seuss
A book by Dr. Seuss that includes fun words and wordplay as Mr. Socks Fox tries to teach Mr. Knox a tongue twister.
"Ducks Don't Wear Socks" – John Nedwidek
Emily finds herself being a little too serious. This changes after she meets Duck. Duck decides that he needs to wear socks, despite Emily's discomfort that, "Ducks don't wear socks!" This continues with other articles of clothing until he changes Emily's serious and self-conscious mood.
"Beep and Bah" – James Burks
Beep and Bah find a single sock all by its lonesome. They decide they must find the other sock. They travel all along the road, looking for the potential owner of the other sock. Will they ever find the sock's match?
"Duck Sock-Hop" – Jane Kohuth
It's a story about ducks dancing in their very fun-colored socks. What's not to love?
"Smelly Socks" – Robert Munsch
Tina goes shopping for socks and finds a pair that she absolutely loves. It becomes a problem, however, when she refuses to
take them off, and her classmates have to take action.
"Timothy Cox Will Not Change His Socks" – Robert Kinerk
Timothy refuses to change his socks for a month. As one can imagine, that does not make him popular in town. Not even the neighborhood skunk will be his friend.
"The Piano" – Marika Maijala
A wonderful story about a runaway piano. Fun for young musicians. Where does the lost sock come into the story? You'll have to read and see!