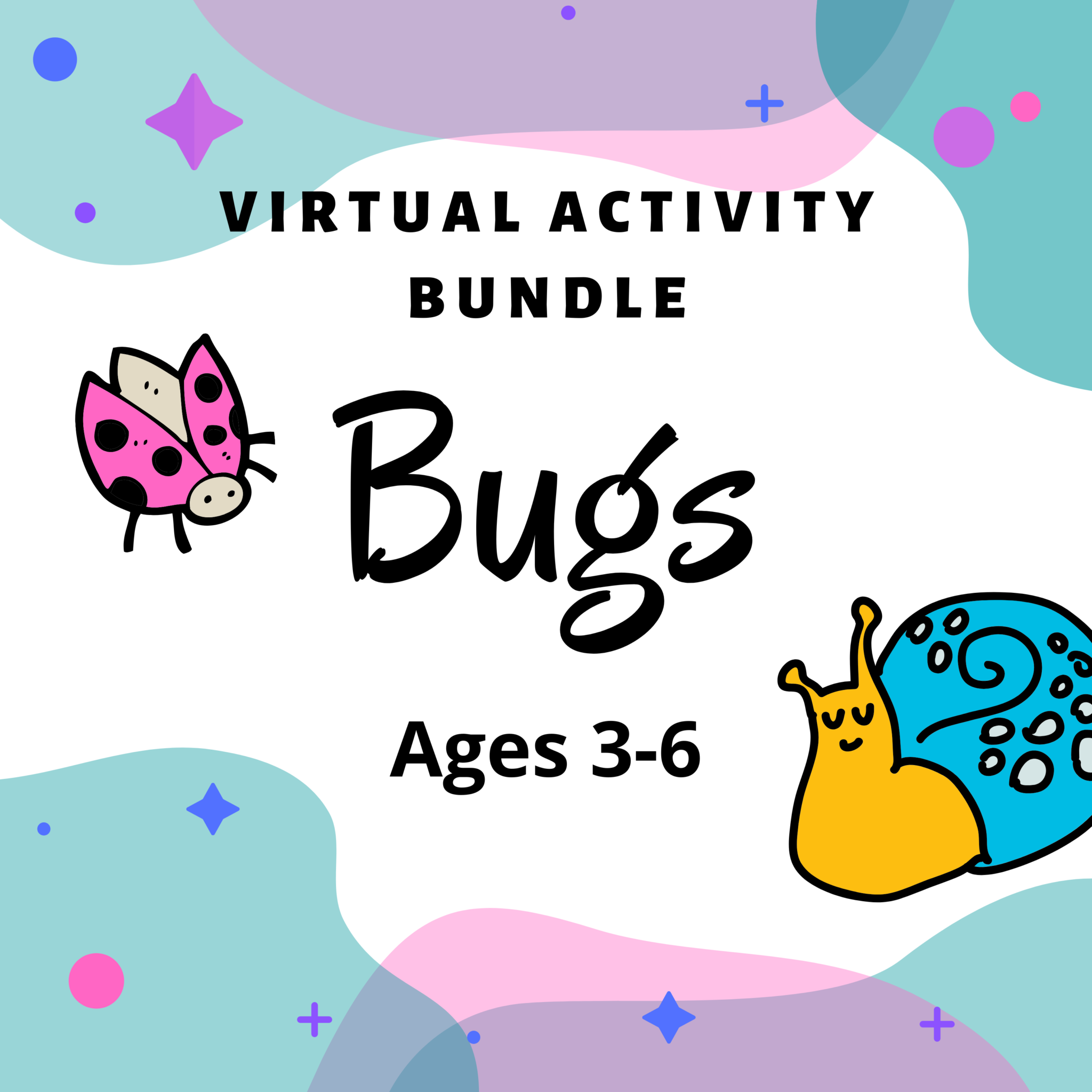 Bugs are the best. They are the squishiest, the smallest and the creepy crawliest! I love to see them—from a distance. In this Virtual Activity Bundle, I will share some of my favorite bug-themed activities, books, music and more. Enjoy!
Books
Nonfiction

"Ask a Bug" by DK
This book will take the reader from the intimate details of the creature's life (Are bugs born as eggs? What do they eat? How fast do they grow?) to the bigger picture, offering a chance to explore their wider habitat and their friends and enemies.
"Bugs" by DK
Enter the extraordinary empire of the creepy-crawly. From dung beetles to dragonflies, meet the neighbors you rarely see—but are essential to your life.
"Bugs" written by Carol Lawrence, illustrated by Amy Zhing
What are bugs? Are all bugs insects? What role do they play in our world? Baby Explorer encourages little ones to explore the world around them, through their five senses of seeing, touching, hearing, smelling or tasting.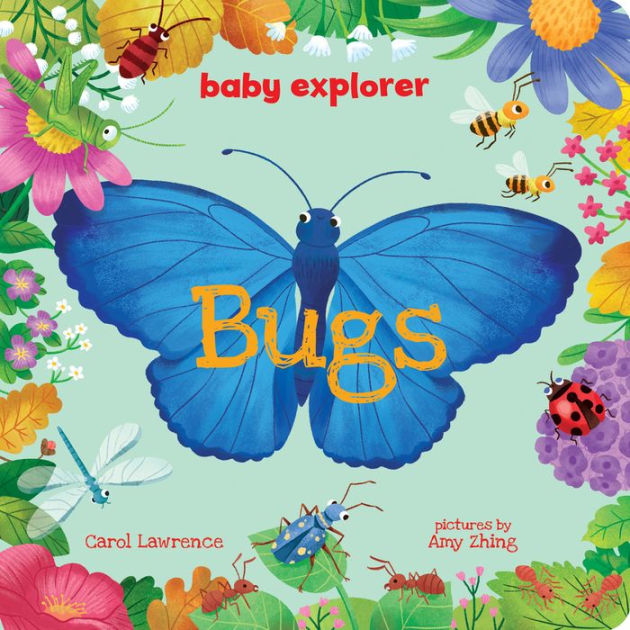 "Good Trick, Walking Stick!" by Sheri Bestor
Walking sticks are among the world's most fascinating insects. And one many children can find right in their backyards! With a simple story, perfect for read-aloud and colorful illustrations, this scientific look at a walking stick's life-cycle will captivate budding entomologists.
"Hey There, Stink Bug!" by Leslie Bulion
A swarm of insects introduces readers to the joy of poetry. Witty poems describe how insects capture prey, trick predators, attract mates and have managed to survive for 400 million years.
Fiction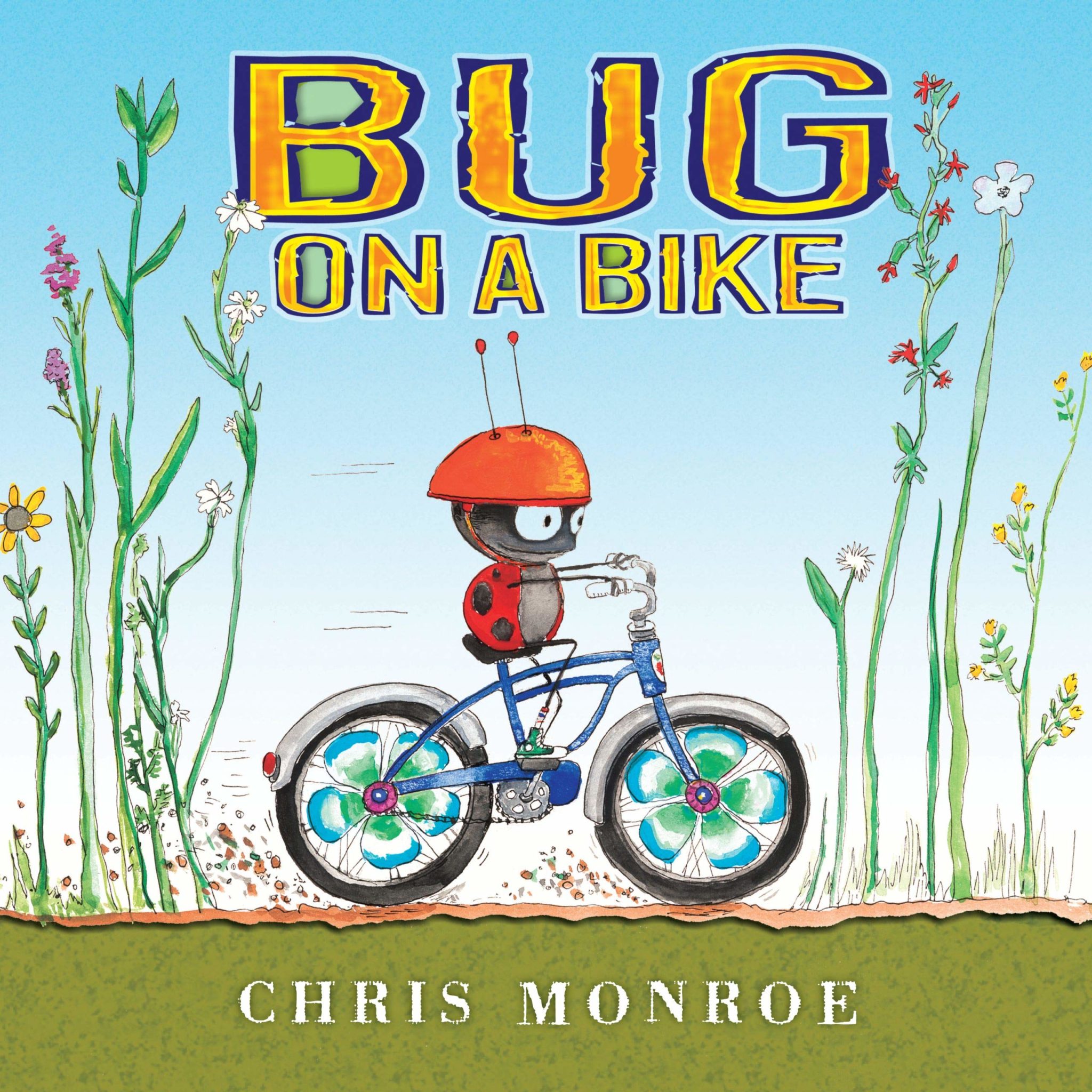 "Bug on a Bike" by Chris Monroe
Are we there yet? The Bug on the Bike isn't saying. He just started riding his bike one day and invited his friends to follow behind him. It's a long, strange trip everyone is happy to take.
"I Can Only Draw Worms" by Will Mabbitt
This is part counting book, part introduction to worms, but all superbly silly. The fact that the author/illustrator can only draw worms will not take anything away from the laugh-out-loud adventure readers will have as they turn the pages of this slightly subversive picture book.
"Pete the Cat and the Itsy Bitsy Spider" by James Dean
This title presents an adaptation of the "Itsy Bitsy Spider" in which Pete and his friends know just how to help the spider succeed.
Music
"Bug Out" by Caspar Babypants
Access to this album is free with your library card using Freegal.
Jam out to tracks like:
"The Ants Go Marching"
"Fuzzy Buzzy Buzzing Bug"
"Slugs in the Dust"
and so many fun others!
Videos
Activity
Make a Caterpillar Friend
This caterpillar craft was based on Eric Carle's book, "The Very Hungry Caterpillar." Your paper caterpillar can easily be hung as a wall sign or a fridge decoration! To make it, we advise having:
Scissors
Construction paper
Markers
Glue or tape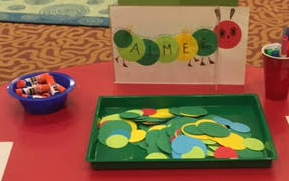 To make our caterpillar friend, we stuck to the traditional green and red that Carle uses in his book. Using two different shades of green, we cut circles out to make the body sections of the caterpillar. Each circle was one segment of our caterpillar's body. We used a larger red circle for the head of the caterpillar. Remember: All bodies are different, so don't worry about circle sizes or making perfect circles.
One we had our caterpillar circles cut out, we arranged them to form a caterpillar shape on a large piece of paper. Then, we glued down our circles with a glue stick. Once the caterpillar was glued down, the face, legs and antennae were the next details to add with markers.
Want to branch out from caterpillars?
Try this idea with worms, bumble bees and more! See how many paper bug friends you can make!
Play with Bugs at Home!

Learn and play with your own little Very Hungry Caterpillar at home! This app is available through the Apple App Store or the Google Play Store from StoryToys. Have fun raising your caterpillar and playing all sorts of fun games! (Note: There are in-app purchases.)

Available from the Apple App Store:
"The Very Hungry Caterpillar: Play & Explore" by StoryToys Entertainment Limited
Available from the Google Play Store:
"My Very Hungry Caterpillar" by StoryToys Entertainment Limited
More information on Bugs!