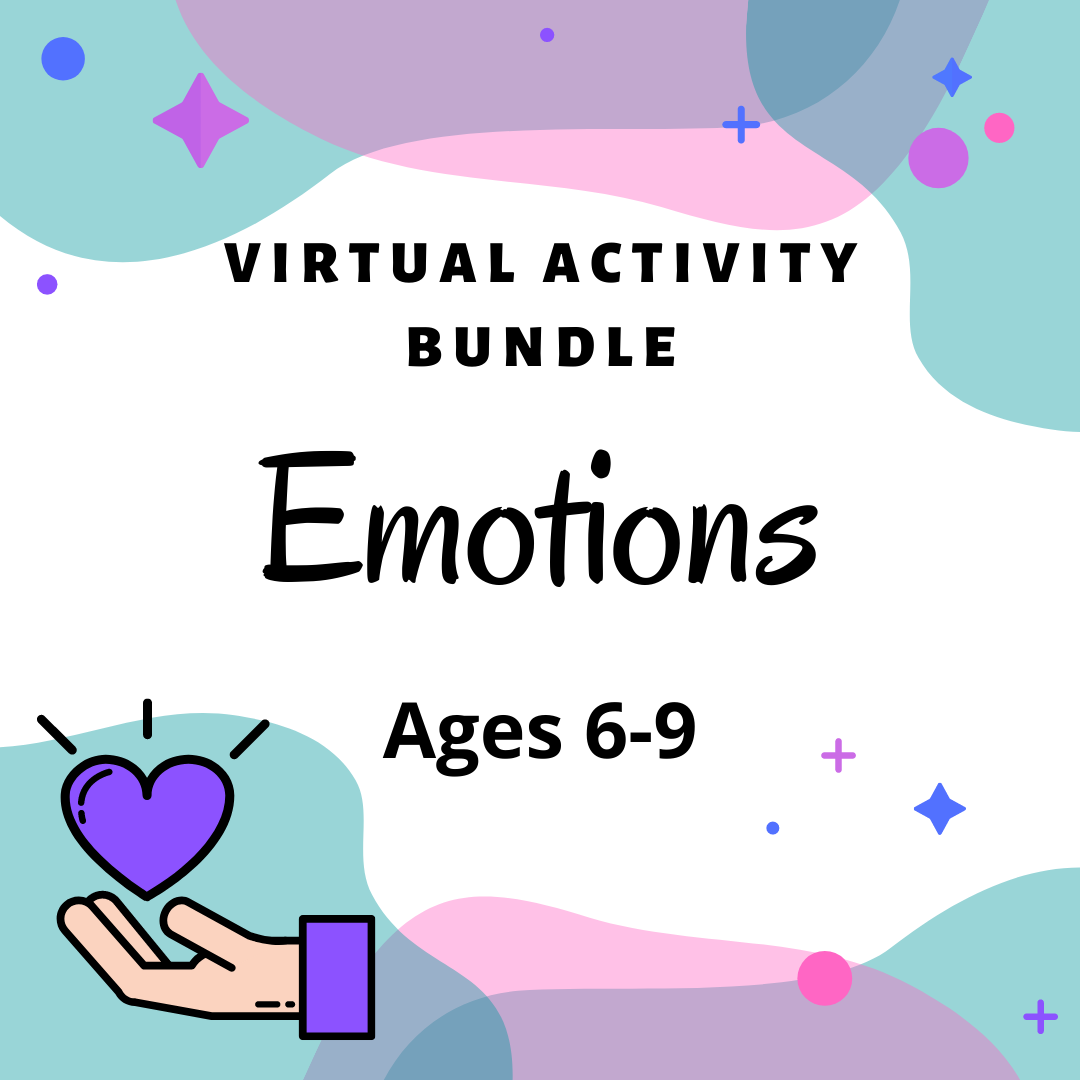 Emotions can be overwhelming for all people of all ages. Talking about our emotions helps us deal with them and express them in acceptable ways. But first we have to identify what we are feeling. Talking with your child about emotions will help them identify feelings in themselves and others and improve their ability to communicate. Here are some resources to help with the conversation.
Books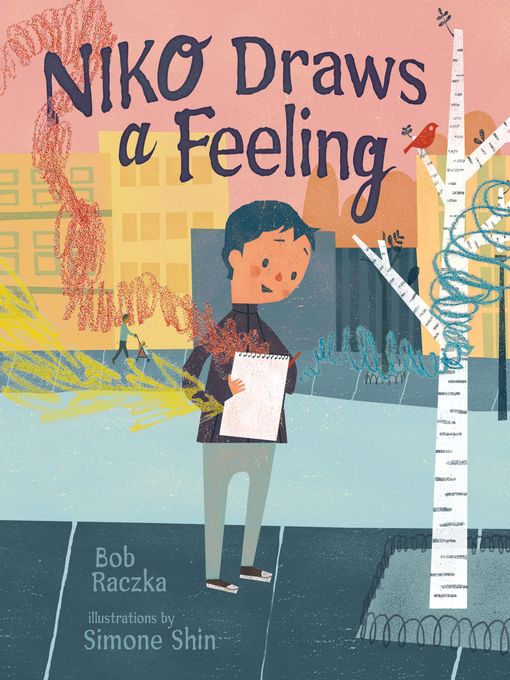 "Niko Draws a Feeling" written by Bob Raczka, illustrated by Simone Shin
Niko loves to draw, but when he shows his art to others, they don't understand his abstract pictures. Then he meets someone who understands the feelings that he was trying to capture with his art.
"The Bad Seed" by Jory John
The Bad Seed has a bad temper, bad manners and a bad attitude. This seed cuts in line, stares at everybody and never listens. But what happens when one little seed changes his mind about himself, and decides that he wants to be—happy? Even a bad seed can change.
"Inside Out: Driven By Emotions" by Elise Allen
Dive into Riley's mind and see Pixar's film, Inside Out, from a different perspective. Each chapter offers a retelling of the film from one of Riley's emotions: Joy, Sadness, Fear, Anger and Disgust.
"Giraffe Problems" written by Jory John, illustrated by Lane Smith
Giraffe is self-conscious about his neck. He does not like this part of himself. His friendship with Turtle helps lead him to self-acceptance. This story is told with plenty of humor.
"First Day Critter Jitters" written by Jory John, illustrated by Liz Climo
All of the animals are nervous about the first day of school. When they arrive at their classroom, though, they're in for a surprise. Their teacher, the armadillo, is so nervous he has rolled in as a ball. It takes time for him to relax and unfurl. By the next day, the animals have all figured out how to help one another through their fears.
"Exploring Emotions: A Mindfulness Guide to Understanding Feelings" by Paul Christelis
Miss Sunny from the Bizzy Book Club reads aloud this book about emotions and how they can change throughout a day. The story follows a group of children who are engaged in a variety of outdoor activities.
"Fear, Self-Esteem, and Emotions (Unit Plan)" 
This lesson plan, for kids in grades K-2, helps to facilitate discussions about emotions that parents can adapt to use with their children. This lesson plan features the following TumbleBooks: "Yelly Kelly," "Wait and See," "Surfing Safely.com," "Little Red In Cyber Space," "A Pocketful of Kisses," "Penelope and the Monsters" and "Don't Forget to Come Back!" To access this plan go to the TumbleBooks database and type "Fear, Self-Esteem, and Emotions" into the TumbleSearch Title bar.
Music and Videos
Know Your Emotions
Morgan at Rocket Kids talks about what emotions are, how we can measure emotions, and three things we should remember when talking about emotions and feelings.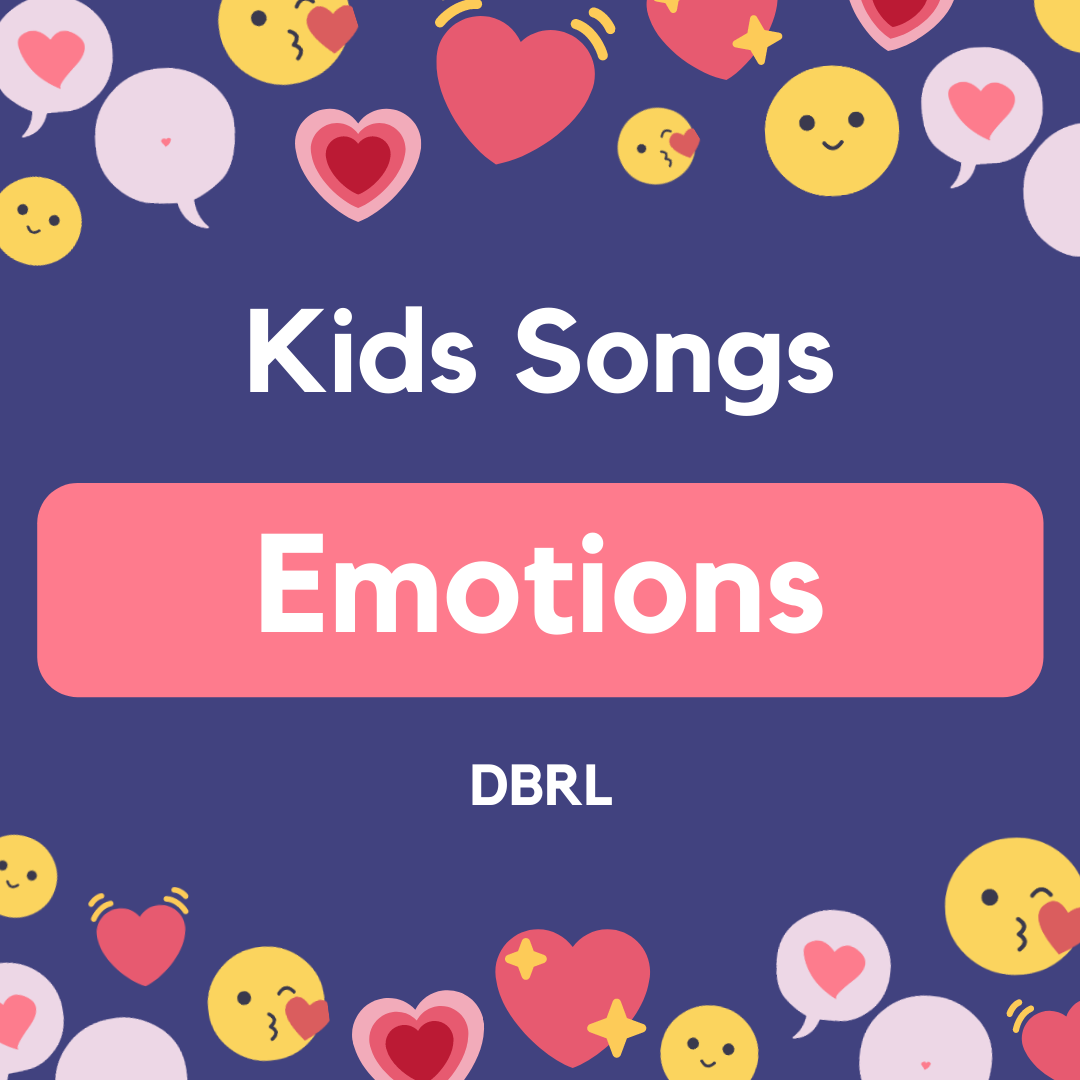 Kids Songs: Emotions
I put together a playlist of songs all about emotions that you can listen to using the library's free music resource, Freegal!
"Let It Go" from Disney's Frozen
Elsa has been hiding her feelings and her true self. Now she is ready to reveal the truth. You can talk with your child about sharing feelings even when they are seen as negative feelings.
Activities
Calming jar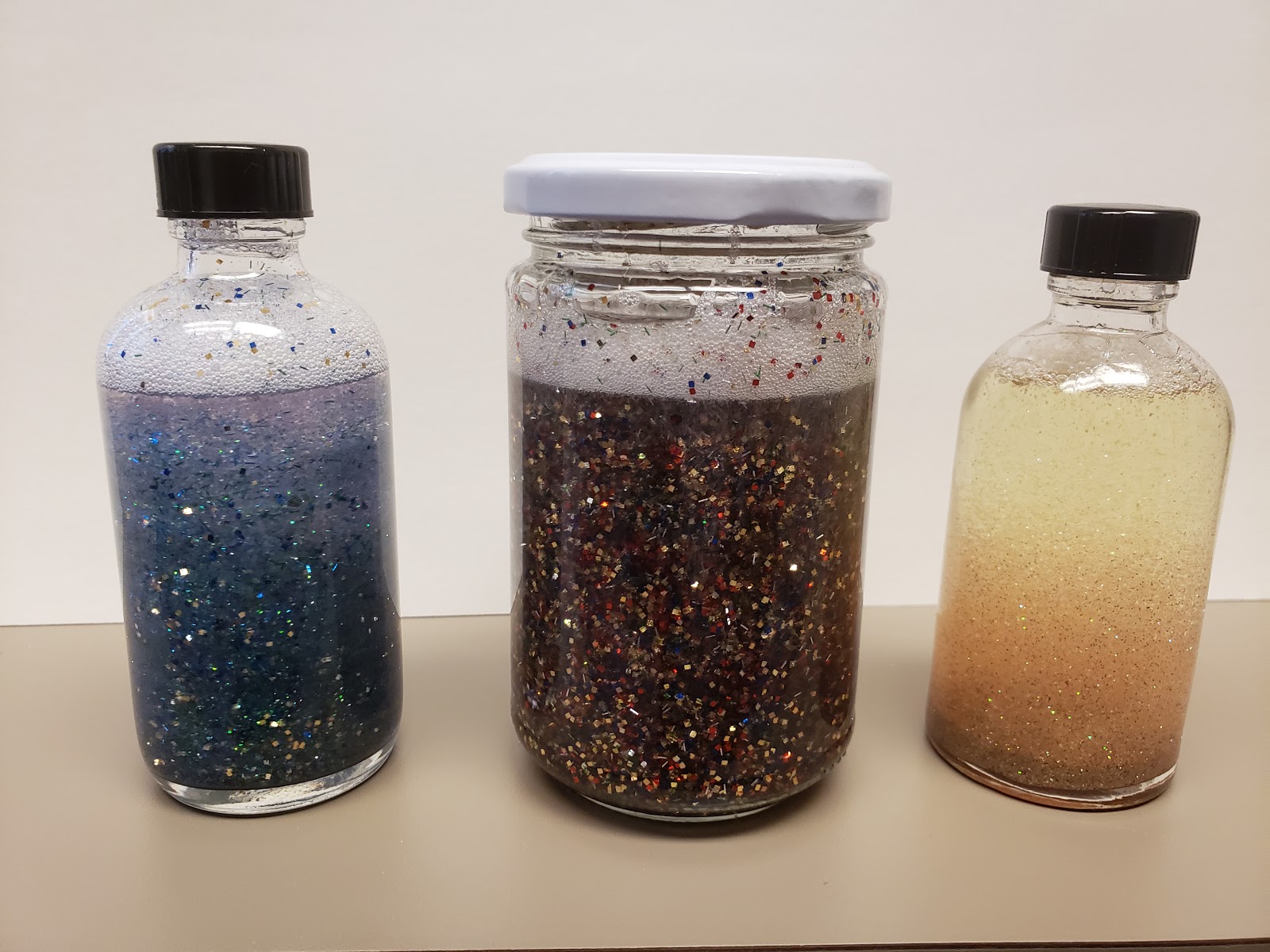 Sometimes our minds are full of swirling thoughts like the glitter in calming jars when shaken. Watching the glitter flit around and then slowly fall can have a calming effect. When our minds are calm, it is easier to talk about what we are feeling and to work out problems.
 Supplies:
Empty jar or bottle with lid

Warm water

Glitter glue, clear glue or clear liquid hand soap (any one will do—they help make the glitter fall slower)

Glitter, a variety of sizes if possible

Food coloring (optional)
Directions:
Fill your container half full of warm water.

If using glue, add enough to fill the container almost ¾ of the way. Then add more water. Leave a small gap of air at the top. Mix well. (The mixture is about 1 part glue to 3 parts water).

If using soap, add enough to fill the rest of the container. Leave a small gap of air at the top. (The mixture is half water and half liquid soap.)

Add glitter. You can also add beads.

Optional: Add a few drops of food coloring. Not too much though, because if the water is too dark, you can't see the glitter.

Put the lid on tightly. (If your child is likely to try to take the lid off, you might want to glue it on.) Your container is ready to shake!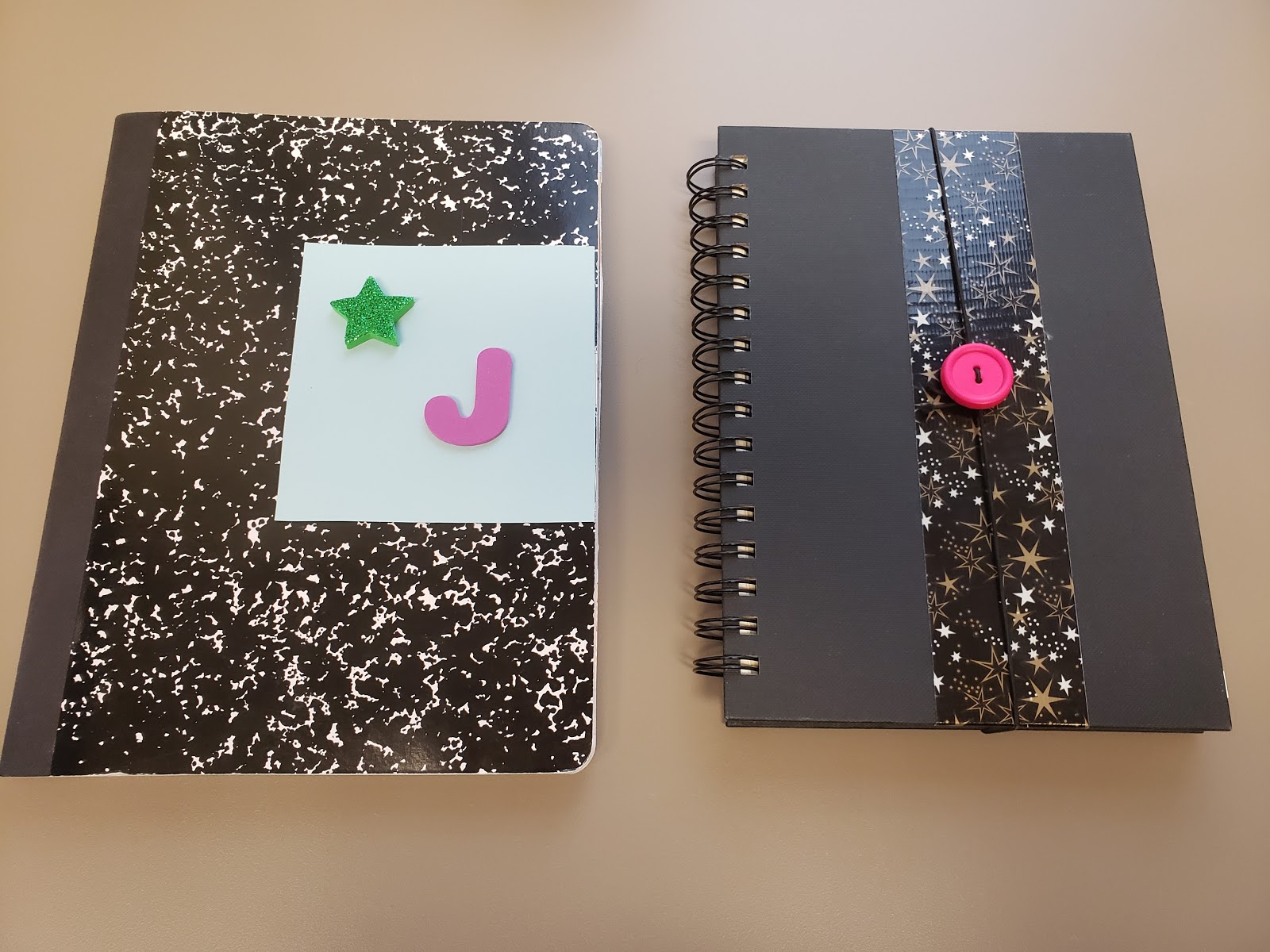 Personalized journal
Grab a notebook, sketchpad or anything that has blank pages and would appeal to your child. Explain to them that this is a journal for writing or drawing about feelings. You could start by talking about one feeling at a time and draw or write about how it feels or what makes your child feel this way. For instance, they could draw something that makes them happy or draw how happy feels inside them.
Have your child decorate the cover of the journal with duct tape, paper cutouts, markers or whatever craft supplies you have on hand. Encourage them to use the journal on a regular basis to help them identify their feelings. For more ideas, check out "Explore Feelings and Emotions for Kids" from PBS KIDS for Parents.