My grandkids love to build things—they're young engineers in the making! I keep boxes, paper tubes and empty food containers (like oatmeal cartons and potato chip cans) in a big plastic tub. When they visit, my grandkids love to go through it and figure out something they can create. The most recent creation is a fairy town. (Scroll to the bottom of the page to see what they made!)
If you have a child who loves to imagine, build and create, then try out these fantastic resources on engineering!
Books
Fiction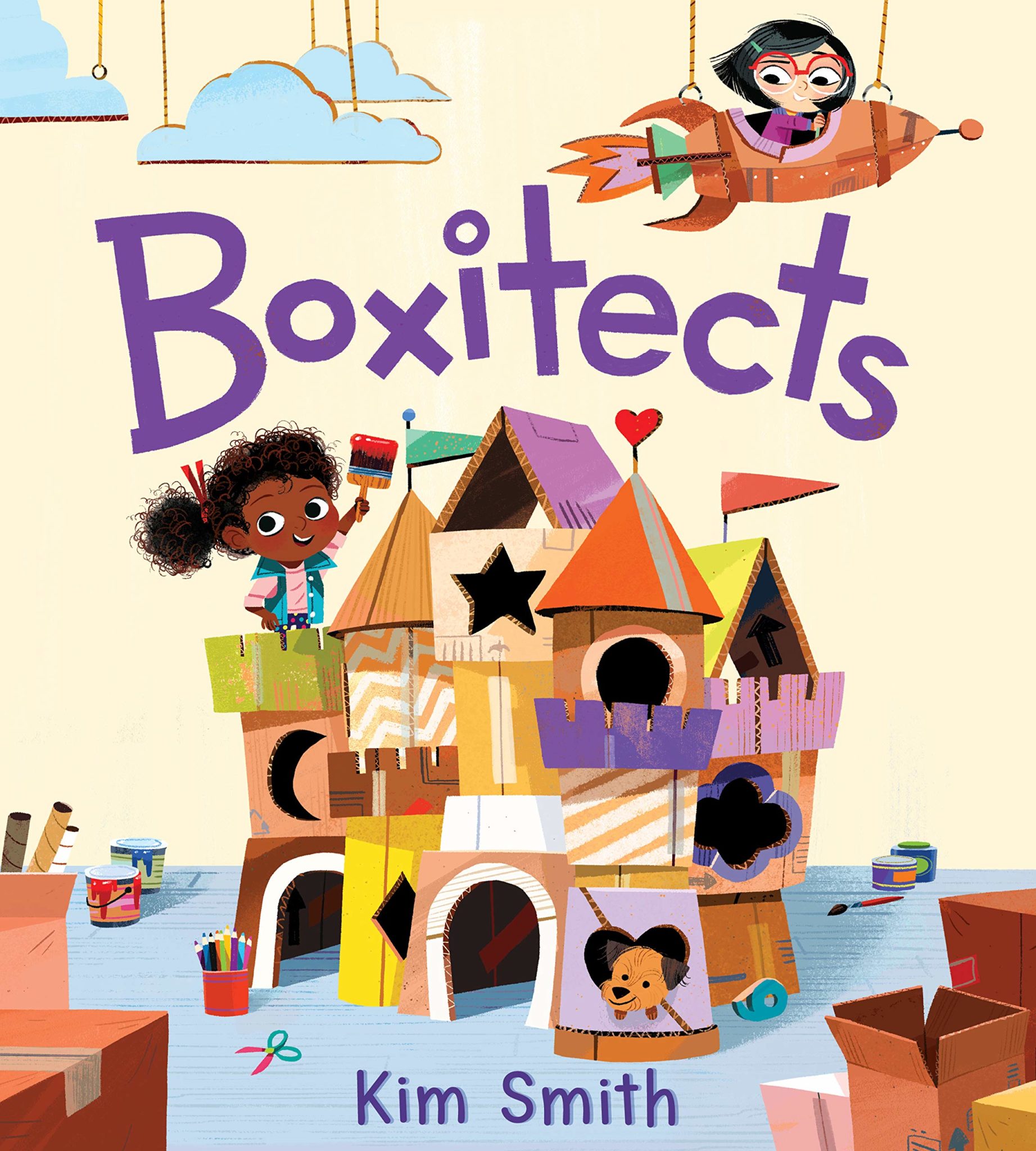 "Boxitects" by Kim Smith
Meg is a brilliant and creative boxitect. She loves impressing her teacher and classmates with what she makes out of boxes. But there's a new kid at Maker School: Simone. Simone is good at everything, and worst of all, she's a boxitect too. When the annual Maker Match is held, Meg and Simone are paired as a team but can't seem to stop arguing. When their extraordinary project turns into a huge disaster, they must find a way to join creative forces, lift each other up, and work together.
"The Most Magnificent Thing" by Ashley Spires
A little girl and her canine assistant set out to make the most magnificent thing. But after much hard work, the end result is not what the girl had in mind. Frustrated, she quits. Her assistant suggests a long walk, and as they walk, it slowly becomes clear what the girl needs to do to succeed. A charming story that will give kids the most magnificent thing: perspective!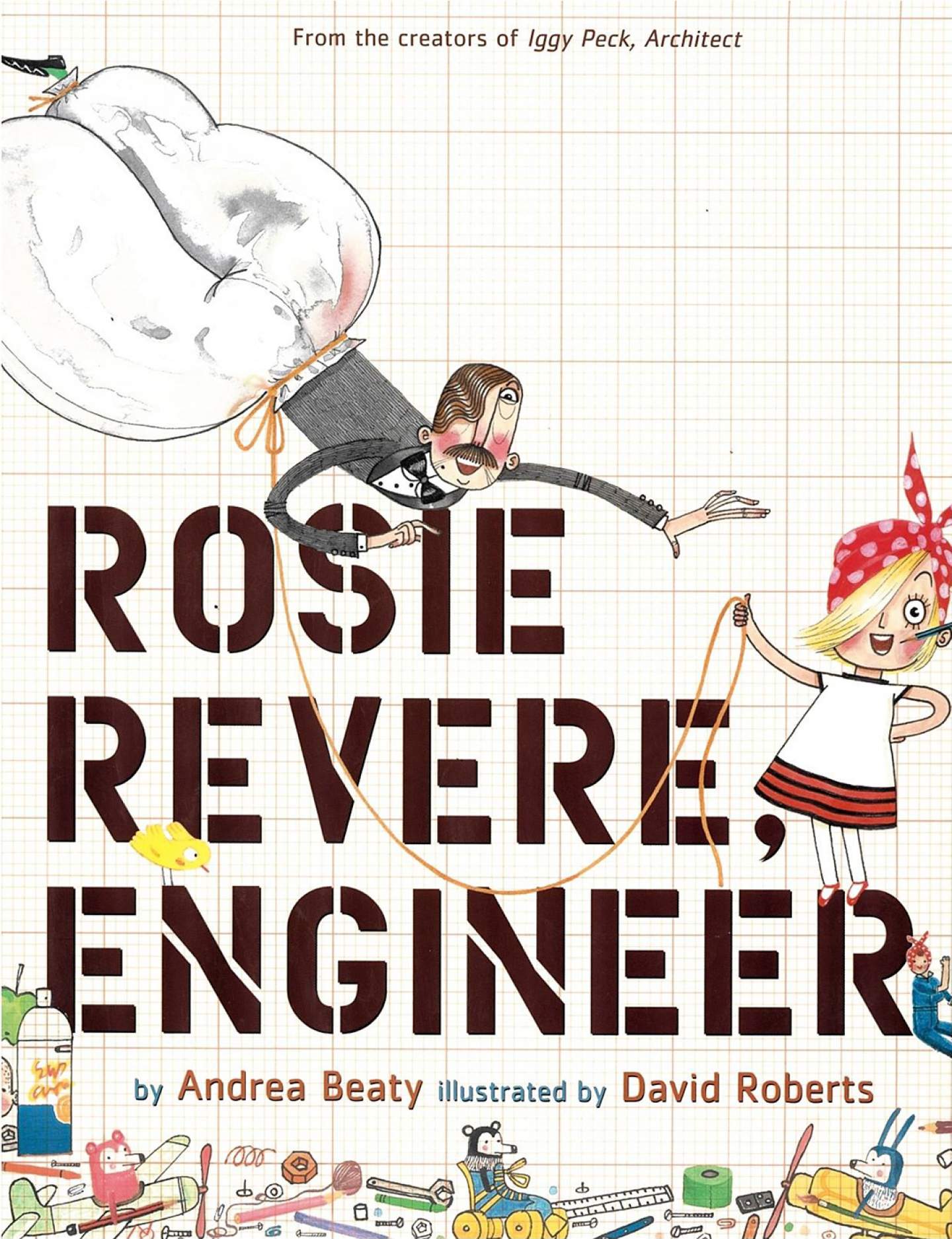 "Rosie Revere, Engineer" by Andria Beaty and David Roberts
Rosie Revere dreamed of becoming a great engineer. Where some people see rubbish, Rosie sees inspiration. Alone in her room at night, shy Rosie constructs great inventions from odds and ends. Hot dog dispensers, helium pants, python-repelling cheese hats: Rosie's gizmos would astound—if she ever let anyone see them. Afraid of failure, she hides them away under her bed. Until a fateful visit from her great-great-aunt Rose (AKA Rosie the Riveter!), who shows her that the first flop isn't something to fear—it's something to celebrate. And you can only truly fail if you quit.
"Rosie Revere and the Raucous Riveters" by Andria Beaty and David Roberts
Like "Rosie Revere, Engineer"? Then you'll love this book! Rosie's beloved Aunt Rose and her friends, the Raucous Riveters (a group of fun-loving gals who built airplanes during World War II) need help inventing something new. And Rosie is just the engineer for the job!
Nonfiction
"Stickman's Guide to Gigantic Machines" by John Farndon and John Paul de Quay
Join the Stickmen on a fascinating tour of monster vehicles, transporters and construction tools. You'll discover some of the largest machines in existence and see the Stickmen (accidentally) test the limits of gravity!
Music:
Dan Crow sings a fun song called "You're an Engineer" on his album "Concoctions." This album includes other fun songs about science too. You can also check out a cool video featuring this song on YouTube.
Videos
"Solve Problems: Be an Engineer" (4.5 mins)
SciShow Kids presents a video to help you learn about engineers. Engineers dream up a lot of the things you use every day, from toys to tools!
"What's an Engineer?" (4 mins)
You've heard of Engineers, I'm sure. But, what are Engineers? Well, it turns out that they're all kinds of people doing all kinds of neat work! Want to be one? Well, join Sabrina in this episode of Crash Course Kids where she talks about what they do and why they do it!
Activity
Build a fairy town.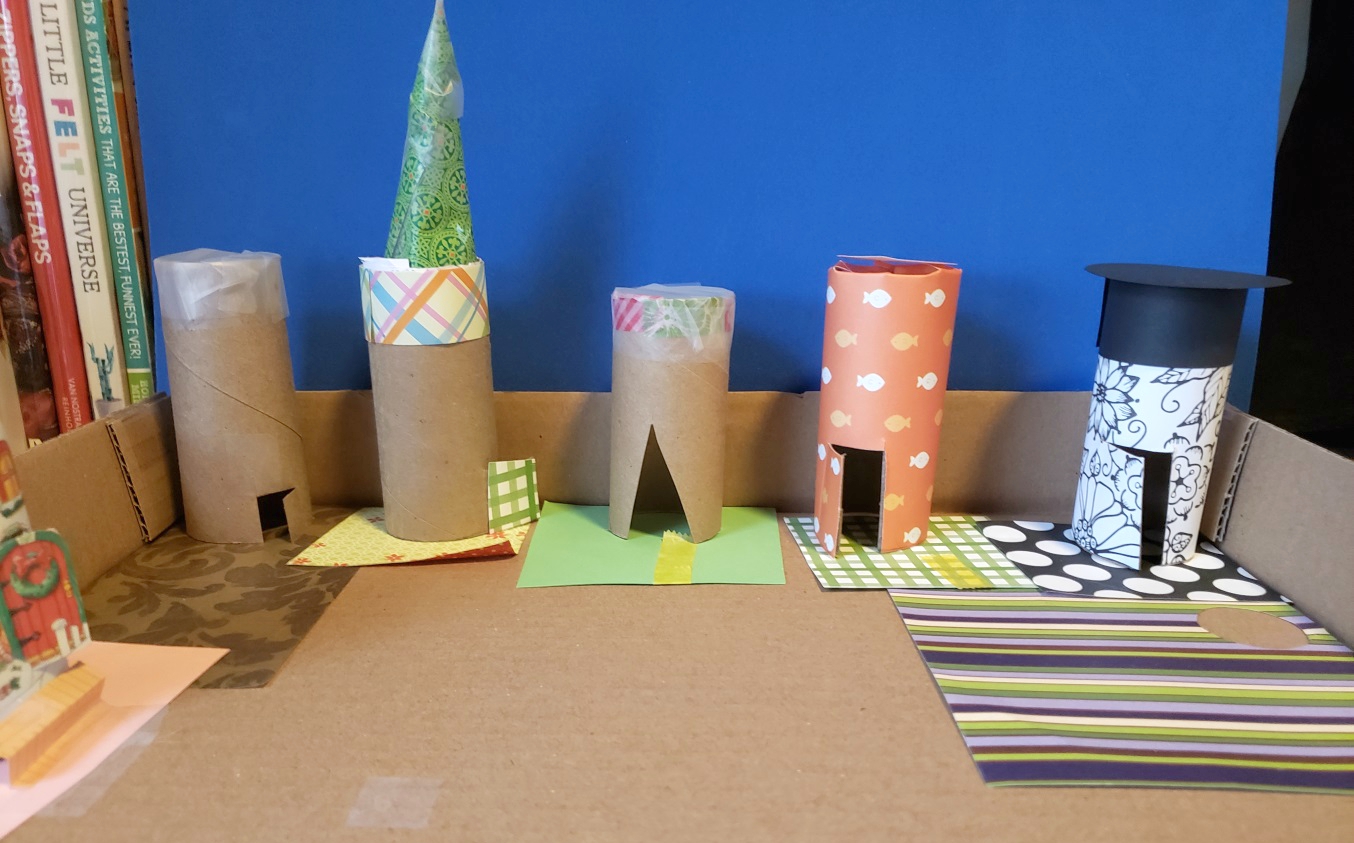 My granddaughter and I built a fairy town out of scrapbook paper, paper tubes and tape. I cut 2 empty paper towel tubes into 3 pieces each. We glued scrapbook paper to some of the tubes, then cut a door in each. We created a variety of roofs. My granddaughter came up with the idea of putting clear tape over the top of a tube to create a skylight. She added scraps of paper for each "yard." She even used some yellow washi tape to create a walkway to the door of one house.
If you don't have scrapbook paper, you could use gift wrap, newspaper, advertisements or plain paper that your child decorates. Kids can decorate the tube itself or leave it plain, as my granddaughter did. We put our town in a box lid, but you could glue it down on cardboard.
We may add more to our town as the mood strikes us!
Want more engineering activity ideas? The Science Museum of Minnesota provides instructions for other engineering activities that can be done at home.