Fairy tales are stories of wonder and enchantment. Animals talk, princes and princesses fight (or befriend!) dragons and clever creatures outwit villains. In this Virtual Activity Bundle, I'll share classic tales, some newer tales and some tales with a twist!
Books
Tumblebooks: Fairy Tales Playlist
(To access this playlist, go to the TumbleBooks database and type "Fairy Tales (Playlist)" into the TumbleSearch bar.)
Books in this playlist include
"Clever Beatrice"
"Boy Soup"
"Jack and the Beanstalk"
"Burro's Tortillas"
"Three Silly Billies" (So good—a pun-filled twist on

"

The Three Billy Goats Gruff

"

with Little Red Riding Hood, Jack and the Three Bears all putting in appearances.)
"Once Upon a Breath"
"The Paper Bag Princess" (My favorite, since the princess saves the prince!)
"The Paper Crane"
Back to School: Story Time
You can listen to 30 fairy tales on this Freegal album by The Hit Crew.
Music
Hands Up / The Best of Friends by Justin Fletcher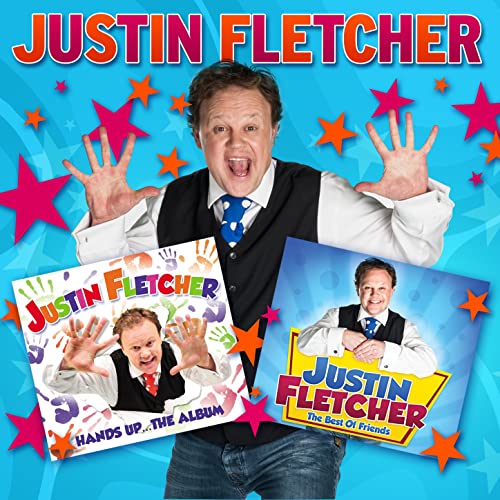 This album on Freegal includes "Who's Afraid of the Big Bad Wolf," "The Ugly Duckling" and "Bibbidi Bobbidi Boo."
Kootie Bear Children's Movie Theme Tunes Collection by Rhymes 'n' Rhythm
This album on Freegal includes many songs from Disney fairy tale movies.
Videos
"Little Red Riding Hood" (4 minutes)
This is the classic tale of a little girl who meets a wolf on her way to visit her grandmother.
"The Three Billy Goats Gruff" (6 minutes)
This is another version of the classic tale of three goats.
"David Bowie Narrates Disney's Peter and The Wolf" (15 minutes)
This is a story told with music. It was written by Sergei Prokofiev in 1936. The narrator tells a children's story, while the orchestra illustrates it. Each character has theme music played by a different instrument.
Activities
Build a Bridge for the Three Billy Goats Gruff
What do you have available to build with? Do you have LEGO bricks, wooden blocks, craft sticks, cardboard boxes, paper tubes, plastic straws or paper? This list could go on and on. What can you use for goats? I twisted some pipe cleaners together, but you could use stones, crumpled paper, blocks, small boxes or plastic farm animals. (It doesn't have to look like a goat.) You just want 3 items of various sizes.  Will your bridge hold your goats? Besides being fun, this is science and engineering at work!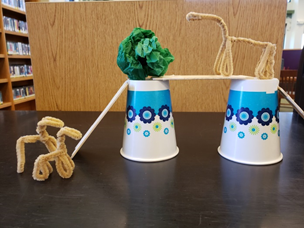 Here are my bridge and goats. I taped 5 popsicle sticks together and set them on top of two paper cups to make a bridge. My troll is a crumpled piece of green tissue paper.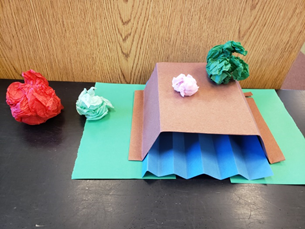 My second bridge is folded paper, and the goats are crumpled tissue paper. 
As you create different bridges, see how much weight each bridge will hold and compare them to see which is sturdiest!
More bridge examples
Other activities
Try building houses for the Three Little Pigs. Here is one family's version.

Use your imagination and whatever you have on hand for building materials.