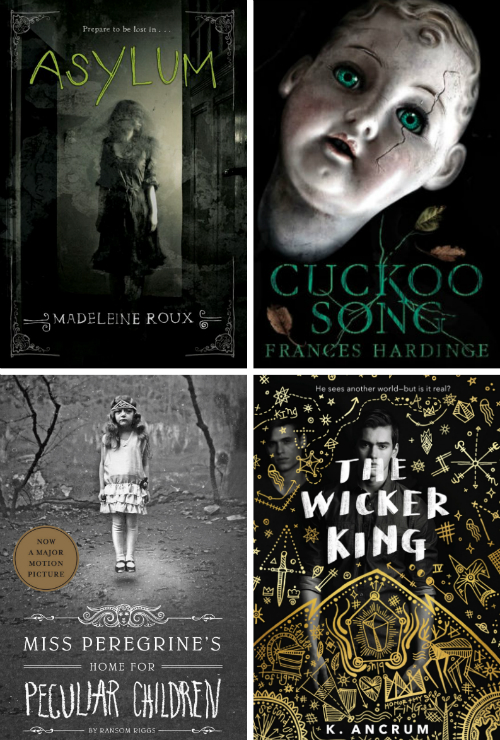 Looking for something creepy or uncanny to read this Halloween season? Here are some fun choices to get into the spooky mood! You can also view this list within the library's catalog.
"Asylum" by Madeleine Roux
Dan Crawford is excited to be spending his summer at a college prep program at New Hampshire College. Upon arriving, he learns that his dorm was once an asylum for the criminally insane. Dan and his friends begin sneaking around the building's old passageways, uncovering long-buried horrors.
"Cuckoo Song" by Frances Hardinge
In this book, Triss awakens from an accident and finds herself misplaced in the world as she remembers it. She senses that something has changed, but there is no evidence that anything is different—except everyone is afraid of her.
"The Enemy" by Charlie Higson
This series takes place in Britain after a zombie apocalypse changes the world, turning adults into cannibals. In London, a group of children struggles to survive inside a grocery store.  The plot begins a year after the outbreak, when the zombie adults have grown stronger and safe places have become scare.
"The Girl I Used to Be" by April Henry
This novel focuses on the life of Olivia, a young girl who entered the foster system after her mother was murdered. Everyone assumed the culprit was her father who disappeared shortly after the murder. Fourteen years later, it comes to light that Olivia's father was murdered the same day. The killer of Olivia's parents is unknown and still exists out in the world…and Olivia's going to find them.
"Miss Peregrine's Home for Peculiar Children" by Ransom Riggs
This novel combines time travel, tragedy and children with supernatural abilities. Jacob seeks out answers about his grandfather's past and discovers that Abraham Portman's stories were more than works of fiction.
"The Wicker King" by Kayla Ancrum
Jack and August are best friends, though they run in different social circles. When Jack suffers a mental breakdown, his world begins to distort. August tries to support his delusional friend, but they both end up in a psychiatric hospital as August follows Jack into madness.