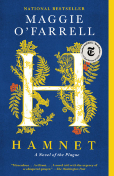 "Hamnet" is the fictionalized account of Shakespeare's passionate relationship with his wife Agnes and an investigation of their grief over the loss of a son. The writing is simply gorgeous, and O'Farrell excels and creating intimate portraits and settings you can almost feel. An unforgettable interlude follows the path of a single plague-carrying flea from Alexandria to Stratford and shows the author's incredible imagination and skill. An outstanding work of historical fiction.
Three words that describe this book: Lush, immersive, moving
You might want to pick this book up if: You love historical fiction, descriptive writing, and enjoy stories of noteworthy literary figures told through the eyes of "secondary" characters.
-Lauren
This reader review was submitted as part of Adult Summer Reading 2021. We will continue to share these throughout the year.