Gale Presents: Excel Adult High School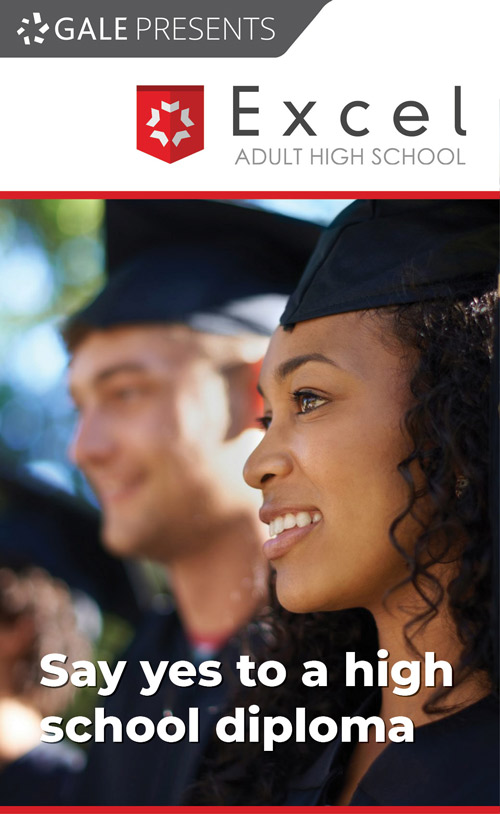 The Daniel Boone Regional Library offers adults the opportunity to earn a nationally accredited high school diploma online through the Excel Adult High School (EAHS) program.
The library provides a limited number of EAHS scholarships and Chromebooks to qualified adult learners who are looking to expand their career opportunities, prepare for workforce entry or continue their education. Applicants who successfully complete the online self-assessment, the prerequisite course and an in-person interview will be considered for free enrollment.
To be considered for the program, applicants must be at least 18 years old, live in the DBRL service area, and have a DBRL library card.
If you are interested in sponsoring a student learner, please contact the DBRL Foundation.
Please email us at EAHS@dbrl.org for more information.
FAQs
What is EAHS?

Excel Adult High School is not a GED program, but is an accredited high school that offers a fully online high school diploma program, available through your local public library. A high school diploma is universally accepted at colleges and universities and may be preferable to a GED for students wanting to work toward attending college or certain careers. This program offers free enrollment to a limited number of qualified adult students.

Who can apply?

Adults 18 and older residing within the DBRL service area (Boone County, outside of Centralia, and Callaway County) who have successfully completed 8th grade and wish to earn their high school diploma. Program applicants must have a library card or be willing to apply for a library card. You can apply for a library card at any branch library or online.

Applicants should have a willingness and ability to dedicate ten hours a week to coursework.

How long will it take for students to complete the program?

Students will be given up to 24 months to complete the online high school program, which will consist of 21.5 credits. Students accepted into the program may transfer up to 16 credits from previous accredited high school, home school or state equivalency exams.

Depending on how many credits the student can transfer, the program can be completed in as few as three to six months. The average time to complete it is 12 months. Online courses are self-paced. On average, it takes about three to six months for adult students to complete a grade level.

How do I get started?

Visit the How to Get Started page to learn more about the program and how it works.