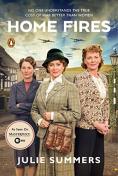 The book "Home Fires," the inspiration for the BBC television series of the same title, explores the activities of Britain's National Federation of Women's Institutes during World War II. It begins by touching on the founding and purpose of the Institutes before going on to describe how members worked with evacuees, grew and preserved incredible amounts of food, made and mended clothing, and took over jobs usually done by men. All while dealing with rationing, widespread lack of running water or electricity, and the wondering about or grieving the loved ones more directly involved in the war.
This nonfiction book combines facts and figures with notes from organization records and anecdotes from wartime members and their children. While quite organized, there were a few places that I felt like it rambled a bit or revisited topics that I thought had been covered already. Note that it's not a short book; the audiobook is about 12 hours long, but overall I found it a fascinating look at a group of remarkable "normal" rural women. It certainly put my own efforts in some of these areas into perspective!
Three words that describe this book: historical, stories, WWII
You might want to pick this book up if: you're interested in the domestic side of WWII.
-Anonymous
This reader review was submitted as part of Adult Summer Reading. We will continue to share reviews throughout the year.