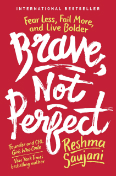 "Brave, Not Perfect" is about empowering women to just be brave enough to try. It talks about how women are raised to believe in order to try something, they must be perfect at it. This isn't the case! The author gives many motivating and heartfelt examples of how she or others have tried and failed or tried and succeeded, but the most important thing was that they tried. I think it is absolutely true that we are not taught that failure is okay. We are taught to be perfect and anything short is detrimental; the judgement from other women for not being perfect (or even their version of perfect) is astronomical. I can very much relate to what she is saying. In a society where everyone wants to prove everyone wrong, I feel stupid when people correct me, and it shouldn't be like that. I think it is important what she is doing: telling women it is okay to apply for jobs you don't 100% qualify for, or to learn about coding, or to fail. The important thing is to be brave, not perfect.
Three words that describe this book: Empowering, Motivating, Women
You might want to pick this book up if: You need a boost to help you jump-start that thing you've been too nervous to try.
-Veronica