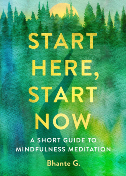 The moment. The breath. "Start Here, Start Now" focuses on these and teaches you how to come back to those whenever you should stray. With touches of a Buddhist connection, it stays mostly on the path toward finding a better you, the you that's already there, through the simplest thing you're already doing. You just have to focus. I enjoyed this book for the meditation instruction and tips, but was most thrilled with the humor. "Somewhere in this process, you will come face to face with the sudden and shocking realization that you are completely crazy," is among the sharper lines that caught me off guard in this sea of calm prose.
Three words that describe this book: Calm, considered, filling
You might want to pick this book up if: You want to learn about mindfulness meditation, need a refresher, or want a fun read.
-Jim
This reader review was submitted as part of Adult Summer Reading 2021. We will continue to share these throughout the year.