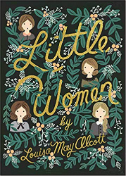 "Little Women" was a favorite book during my girlhood. I'm happy to find that it's still a favorite book now! So well-written, so filled with valuable lessons of life, so full of hope and goodness! As a girl, I enjoyed reading about the games they played — giving plays, P.C. and P.O., Camp Laurence, Castles in the Air and Amy's will. Upon re-reading them, I find them still every bit as enjoyable! And this time around I appreciated, more than when I was young, the life lessons learned by the sisters — Meg's Vanity Fair, Jo's Apollyon, Amy's lime drop anguish and her later failed attempt to host a stylish luncheon, Meg's ups and downs after her marriage. I also loved some of the vignettes on interactions between the characters — Beth going over to Mr. Lauren's to thank him for the new piano, Laurie following Jo on her way to submit her manuscript, Laurie's reaction after Jo refused him, Beth confiding to Jo at the seashore about her terminal illness, Meg's wedding in which she chose not to follow traditional customs, Marmee's heart-to-heart talks with Jo, and the March family giving their Christmas dinner to a poor family they knew. After reading Louisa May Alcott's journal, I can tell a lot of these content came from real life experiences of her and immediate family, which makes me like the stories even more. Love, love, love the book. Will probably read it again in another couple of years.
Three words that describe this book: Fun, hear-warming, hopeful
You might want to pick this book up if: You want to read good, heart-warming historical fiction that gives a reader a sense of hope.
-Cathy