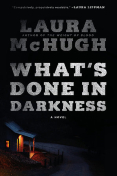 "What's Done in Darkness" follows Sarah (Sarabeth) who grew up in a ultra religious family in the Arkansas Ozarks. Right before turning 18 she's kidnapped. About a week later she's released without ever knowing who abducted her or why. Rather than embrace her return her family shuns her. Five years later Sarah is living a completely different life in a city near St. Louis. A detective contacts her asking for help finding a couple of recently missing girls who might be related to her case. This forces Sarah to go back to her past and deal with the difficult feelings around her abduction and her family. Very fast paced mystery/thriller. Bonus, Laura McHugh is a Missouri author who also has three other great mystery books that take place in the Midwest.
Three words that describe this book: intriguing, dark, compelling
You might want to pick this book up if: you enjoyed the author's previous books, or if you're a fan of dark mystery/thrillers.
-Anonymous
This reader review was submitted as part of Adult Summer Reading. Submit your own book review here for a chance to have it featured on the Adults Blog.