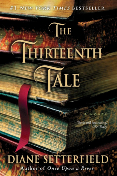 "The Thirteenth Tale" introduces readers to Margaret, a young woman working in her father's rare book shop and an occasional writer of biographical essays about long-dead authors. She is summoned by Britain's most famous writer, Vida Winter, to document the author's story before she dies. Both harbor secrets and the tale Winter spins involves twins, a falling-down estate, a governess, violence, a fire, orphans, gardens and gates — all of the makings of a fairy tale.
This book has echoes of "Jane Eyre," "Wuthering Heights," and other gothic classics. It's a twisty literary mystery with just the right amount of darkness. I listened to the audiobook and was absorbed. It would be a great vacation read.
Three words that describe this book: Gothic, spellbinding, twisty
You might want to pick this book up if: You are a fan of the Bronte sisters, fairy tales, and love books about other people who love books.
-Anonymous
This reader review was submitted as part of Adult Summer Reading 2022. We will continue to share these throughout the year.