I'm back with another round of books I think you might enjoy! Let's dive in.
Picture Books
"The Best Worst Poet Ever" written and illustrated by Lauren Stohler
Any of my friends could tell you about my love for pugs. I love their silly sounds and smooshy faces, so I always get very excited when I see a book starring a pug! In this book, the pug shares the spotlight with a fluffy orange cat, as they face off in a heated poetry battle. The cat admires Shakespeare and hurls barbed sonnets at the pug, while the irreverent pug returns with verses like this: "Can I write a poem with my butt? / I don't know! / Oh can I write a poem with my butt? / Here I go!" The best part about this book is that it's just begging to be read aloud by two people. This would make a hilarious story time with two grown-ups reading to a child, or engage your confident young reader to take one of the parts!
---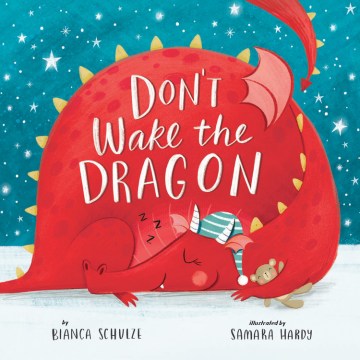 "Don't Wake the Dragon" written by Bianca Schulze and illustrated by Samara Hardy
For another joyously interactive story, try this one about a sleeping dragon. The dragon is very rascally, and didn't want to go to bed. Now that she's asleep, any sound could wake her—the cooks banging pans in the kitchen or even you turning the page too loud! Readers will have to be very soothing, sing a lullaby and tuck themselves in with the dragon to get her to sleep. Which of course, is all part of a parent's master plan bedtime routine!
---
"Saturdays Are For Stella" written by Candy Wellins and illustrated by Charlie Eve Ryan
Sometimes you need books about a specific topic or issue (first day of school, divorce, losing a pet etc.) but wouldn't necessarily seek them out at other times in life. Even though "Saturdays Are For Stella" is about the grief of losing a grandparent, it is a touching and inspiring book that's perfect for reading any time. George loves spending Saturdays with his Grandma Stella, whether they're baking together, exploring the dinosaur museum downtown or reading a favorite book. When George finds out Stella has died, he hates Saturdays and crosses them all off the calendar. Yet when his new baby sister Stella is born, George realizes he has so many things to show her that Grandma Stella shared with him. Share this book with your kiddo as a wonderful example of family connection and traditions, as well as a way to normalize loss and grief.
---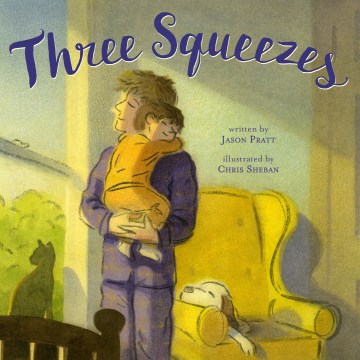 "Three Squeezes" written by Jason Pratt and illustrated by Chris Sheban
Look, I know this is kind of a lot of emotional books, but I just had to share this one with you all. A father starts a tradition with his son of giving three squeezes to say "I love you." The three squeezes might be after a scraped knee, the death of a pet, graduation or even after a quarrel with each other. The father and son grow older, and the son has a boy of his own. As the father is being pushed in a wheelchair along a forest path, he tells his son, "The day may come, you understand, / when I can neither talk nor stand, / and if it does, please take my hand / and give it three soft squeezes." Yep. Have some tissues ready.
---
Chapter Books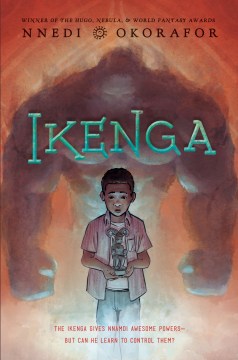 "Ikenga" by Nnedi Okorafor
Okorafor has taken a turn writing Black Panther, but now she's giving us a story about a new African superhero. Nnamdi was eleven when his father, the chief of police, was murdered. Now it's a year later, and Nnamdi is still grieving and furious that the murder has gone unsolved. When he's given a mysterious Ikenga box that transforms him into a superhero, he's eager to track down his father's killers. Yet revenge does not always lead to peace, and Nnamdi must learn to balance his powers and emotions. Set in Nigeria, this book will engage superhero fans while immersing them in West African culture.
---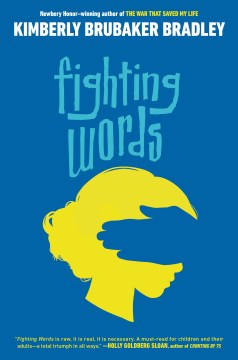 "Fighting Words" by Kimberly Brubaker Bradley
This is a book that needs to be talked about. Even though it has a ten year old narrator, the book doesn't shy away from hard topics like sexual abuse, drug use and incarceration. Parents, be ready to read this at the same time as your kid so you can discuss it together. I absolutely loved the author's historical fiction "The War That Saved My Life" so I was delighted to see she'd written a new novel. The story follows Della and her big sister Suki. Suki has always protected Della, ever since their mother was convicted in a meth incident and they moved in with their mom's predatory boyfriend. When they manage to escape him and land in foster care, Della slowly learns how to fit in. Yet as she starts to heal, she realizes Suki needs help now more than ever. Striking a delicate balance between bleakness and hope, this story will have readers rooting for the sisters every step of the way.
---
"The Magic in Changing Your Stars" by Leah Henderson
Alright, that last one was intense so here's something a little lighter. Eleven-year-old Ailey loves to dance and is thrilled to audition for the part of the Scarecrow in his school's production of "The Wiz." When he bungles his audition Ailey is crushed, and tells his grandpa he's done dancing forever. Grampa shares a story of his own tap dancing days, and gives Ailey the shoes that were given to him by Bojangles himself. Trying the shoes on transports Ailey back in time to 1930s Harlem, where he meets his young grandpa. Filled with excellently researched historical details, a focus on family, and a touch of magic, this book is an inspiring read.
---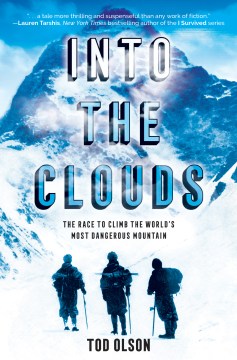 "Into the Clouds" by Tod Olson
Do you have a kid that loves nonfiction? Have they tried branching out into chapter books but just can't get interested? It's time to try narrative nonfiction! This genre uses facts to tell stories in an engaging way, and it's my favorite type of nonfiction. "Into the Clouds" tells the story of the men that tried to scale the mountain K2. Everyone has heard of Mount Everest, but the second tallest mountain in the world is more deadly by far. The author describes the attempts of three expeditions, and transports the reader to the frigid and dangerous slopes. Part adventure story, part survival story, and completely true, this gripping book will entertain and awe as it educates.