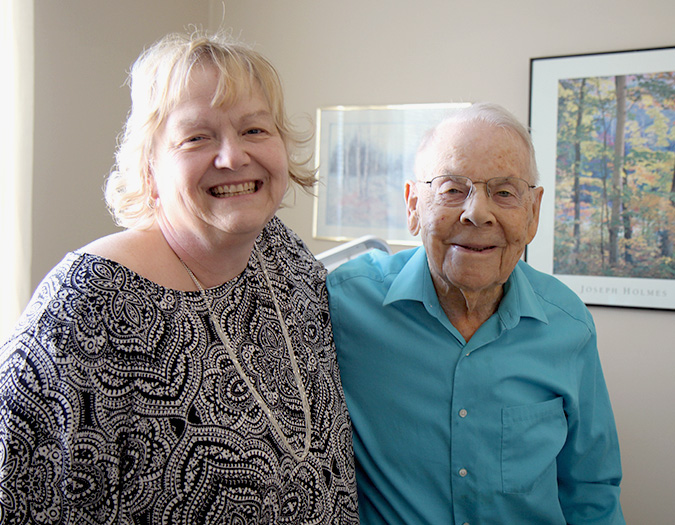 Carolyn Cain and Cletus Baurichter have been book buddies for over 20 years. It all began when Cletus and his wife moved to Lenoir Woods retirement center in 2001. One fine day, they decided to walk from their new apartment to the Lenoir lobby to check out the Daniel Boone Regional Library's monthly lobby visit. Standing with a smiling warm face behind a table loaded with books to borrow, was Carolyn, the library staff member helping patrons during that visit.
During Carolyn's 37 years with the Daniel Boone Regional Library, helping people select books to read has been one of her favorite things to do. She says, "Lobby visits provide a unique opportunity to have one-on-one conversations with patrons and really get to know their reading preferences."
Cletus is a young 102 years old and loves to read as much as ever. Though Cletus' wife is no longer with us, he keeps up their reading habit. He said, "I do lots of reading. It means a pastime for me, for one thing, and knowledge." Though he likes all kinds of books, he particularly enjoys historical accounts of past presidents.
Since Cletus has moved to a different building and is farther from the lobby stop, he is now on the library's monthly home delivery list. He either tells Carolyn what he wants to read next, or she picks up a title she thinks he'll enjoy. "You send me out quite an assortment. Some I particularly like [are written by] Richard Paul Evans, Denise Hunter and Irene Hannon," he says.
Cletus' lifelong love of reading began when he was young. His family didn't frequent a library while he was a child growing up on a farm in rural Callaway County across the river from the Capitol building, but they always had books in their home. Over his lifetime, reading has broadened his view of the world. He says, "Lots happening now that didn't happen, of course, back then. But I have a good feeling about the changes, some good and some are not, of course."
Over the years, Cletus and Carolyn's mutual love of books has led to respect for one another and friendship. "I have always appreciated Cletus' dry sense of humor and his understanding of the value of library service for all people," Carolyn says. In a conversation with his book buddy, Cletus said, "I just look forward to seeing you every [month]…you dropping off books for me. So that's one of the things I look forward to." Carolyn replied, "Well, I'm glad. It's a privilege to serve you. I hope I can be in my 80s the way you are at 102. You're an example of how to age gracefully."
Anyone experiencing medical or mobility barriers to library service may qualify for the library's free home delivery service. Call (573) 817-7097 or email outreach@dbrl.org to learn more.