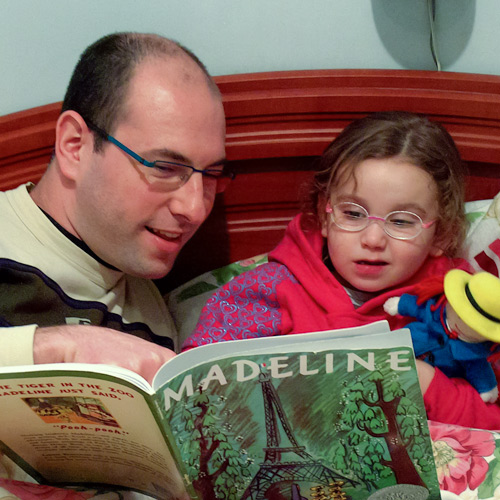 Every night, many children are soothed to sleep by a parent reading a bedtime story. It's part of the nightly wind-down routine, but it's much more than that. Bedtime stories boost brain power.
"There's a clear indication of a neurological difference between kids who have been regularly read to and kids who have not," says G. Reid Lyon, Ph.D., former chief of the child development and behavior branch of the National Institute of Child Health and Human Development.* Hearing stories over and over helps toddlers learn how to speak, understand the differences between sounds and add new words to their vocabulary.
Bedtime stories aren't only for the very young. "Continue reading to your children after they start school, up until they're in junior high, or as long as you can," advises Sarah Howard, Daniel Boone Regional Library children's and youth services manager. "Many of the same reasons you read to toddlers still apply as children grow, plus there are additional benefits."
Bedtime stories have value for kids at all reading levels.
You get to spend quality time with your child, and the story gives you something to talk about together. It might even open the door for discussing tough issues.
When you choose books above a child's reading level, he or she will learn new words and improve listening skills.
Reading aloud can reduce stress levels, which helps kids sleep, but also improves their ability to learn and do schoolwork.
Asking children what they think will happen next in a story helps them recognize patterns, place events in order and predict outcomes, which will get their minds ready for math, science, music and writing. Ask older kids how they would have rewritten a story's ending.
If you would like to restart the habit of bedtime stories in your household with an older child, Howard suggests the following.
Choose a classic book like "Little House on the Prairie," "White Fang" or a book about a topic of interest to your child.
Alternate reading, so your child reads every other page or chapter to you.
Use different voices for different characters.
Read a book that's been made into a movie, then discuss the similarities and differences between the two. (Some titles you might try include: "Coraline," "The Giver," the Harry Potter series, "Holes," "How to Train Your Dragon," "The Invention of Hugo Cabret," or the Paddington bear series, all of which are available in their book or movie versions from the library.)
Sharing graphic novels or magazine articles counts, too. Even some picture books can still be fun to read together at an older age.
Remember that reading together doesn't need to be limited to bedtime and should not replace independent reading.
It's also good to know that it's never too late to begin reading to a child. Researchers noticed that after reading aloud at least one hour per day and performing other literacy activities over eight weeks, the brain activity of poor readers caught up with that of good readers.* At home, experts suggest reading 20 minutes a day over an extended period of time will produce the same results.
In addition to all the mental benefits of bedtime stories, there's also the fact that if you read a traditional book, your eyes get a rest from looking at a screen. Studies show that all of us, kids and adults, sleep better when we have at least 30 minutes of no screen time (no TV, computers or video games) before bed. Read together, and you're both getting that needed break as well as boosting your brain power.
*Source: "The Brainy Benefits of Bedtime Stories" by Patti Jones, Parents magazine