Welcome to the exciting world of helping your child learn to read. You may feel a little lost watching your child start to put sounds together; don't worry, the library is here to help!
Beginning to Read Books & Kits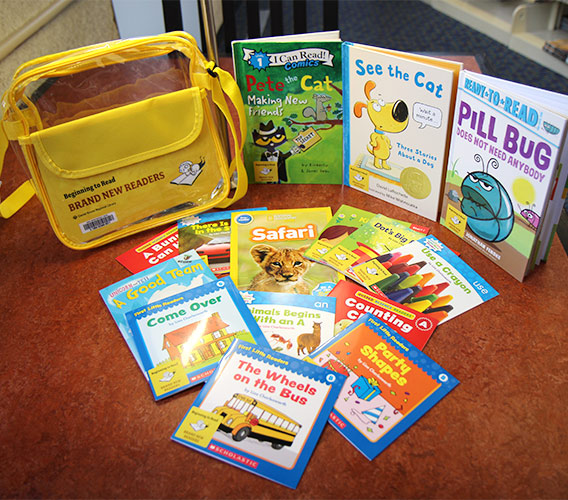 At the Daniel Boone Regional Library, we call the books that were written specifically to help young children learn to read Beginning to Read books (BTR). These books have short sentences, repeated words and recurring text patterns to help build confidence. Many of them highlight sight words or focus on phonics. The wide array of BTR books can be overwhelming, so we've created Beginning to Read Kits to introduce new readers and their families to some of the popular options.
Beginning to Read Kits for Brand New Readers are available now. A second kit for First Chapter Books is coming soon!

---
Finding More Books for Your New Reader
You can explore our entire collection of Beginning to Read Books by looking for the books on the shelf with the yellow BTR sticker, but we suggest you use the lists below to find books your reader will be most interested in. While experts recommend different approaches to reading, kids agree that their favorite books to read are the ones they pick out themselves!
Beginning to read books don't always have the most entertaining plots, but some rise high above the rest. The Theodor Seuss Geisel Award is given annually to the author and illustrator of the most distinguished contribution to beginning reader books. Look to this award list for fun books with a compelling story.
Graphic Novels
Graphic novels are a great format for many beginning readers because the words are supported by the images. At our libraries, all children's graphic novels are shelved together with the call number J GN. Try the "I Can Read Comics" series or explore our Easy Graphic Novels list.
Nonfiction
Does your child love fact books? Visit the Easy Nonfiction section, where all of the books are organized by topic, and look for the Beginning to Read yellow labels. If your child loves sharks, for instance, start browsing at call number E 597.3. For sports, try E 796. Look up any subject area in the catalog to find a call number where you can start.
Books in the Same Series
If you find a book you like, library staff can show you how to find other books in the same series or how to cast a broader net. For instance, try searching for all of Scholastic's Acorn books, which are written at a beginning reading level. Acorn books include the "Unicorn and Yeti" series as well as other popular topics like spooky stories, pet tales, fairy magic and ninja adventures.
Traditional Learn-to-Read Books
Traditional beginning reader books, like the "Dick and Jane" and "Bob Books" series, often focus on phonics or sight words. Some publishers like to build reading skills with a series of little readers. The library keeps these sets in Easy Nonfiction with the call number E428.6.
---
Read-Along Books
Some new readers like to listen to a story and follow along with the text. The library has read-along stories available in physical formats and digital ones available through a few different services. Here are our tips to exploring them all.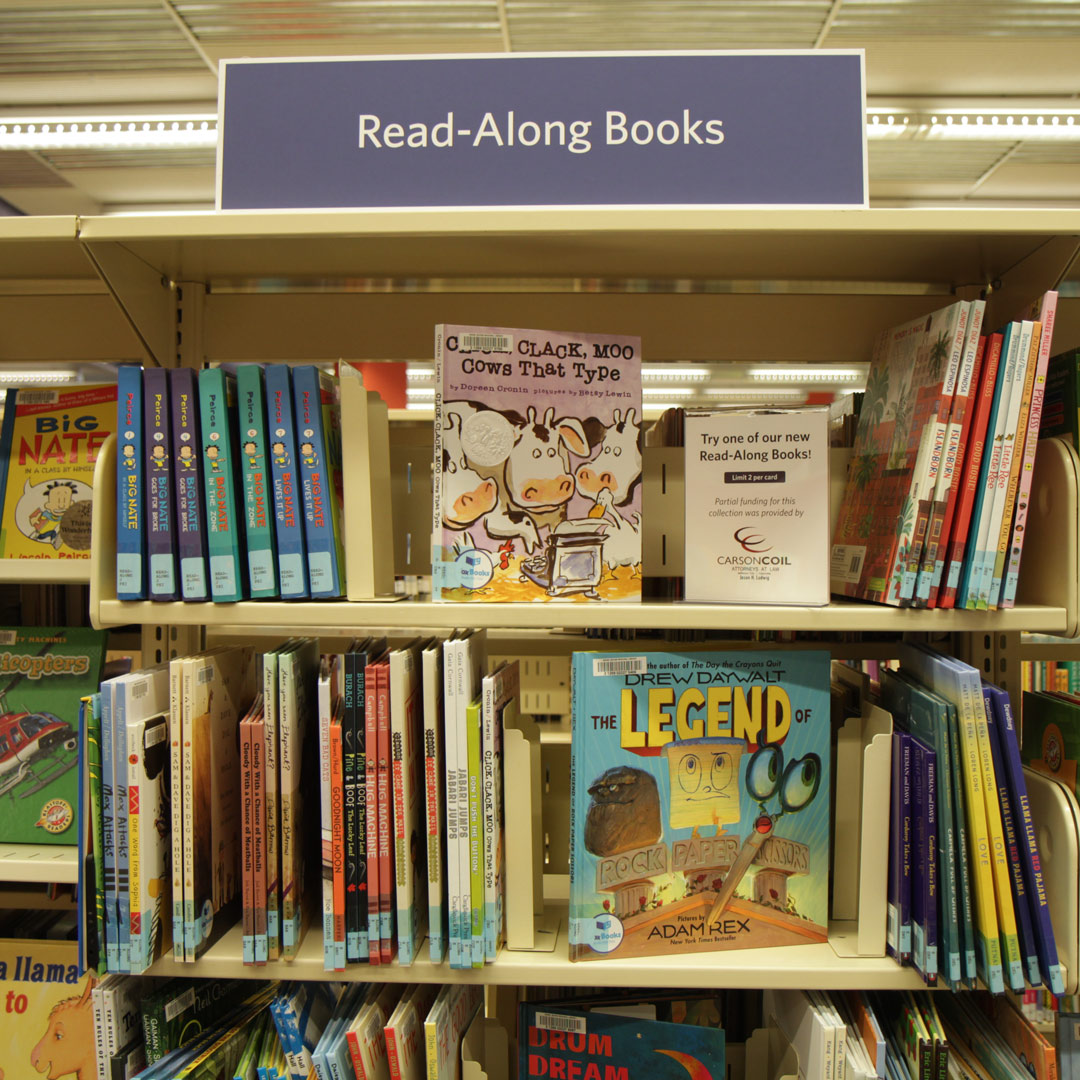 Read-alongs are print books with an audio book inside them. You don't need a separate device to listen to these books! They have built-in audio to transform an ordinary print book into an all-in-one read-along. The library has a collection of read-along books that your young reader can listen to and follow along with, allowing them to practice reading books that are a bit above their current reading level.
The TumbleBook Library has online picture and chapter books. The program highlights the text of a story as it is read aloud. In addition to searching by author, genre, subject and length, TumbleBooks can also be searched by two different reading level systems: Accelerated Reader level and Lexiles.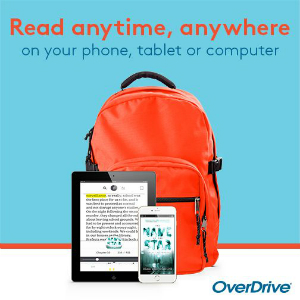 There are eBooks and there digital audiobooks, but have you ever seen the two combined? Meet OverDrive read-alongs! These eBooks are professionally narrated while you read along with the highlighted words. Using the OverDrive service in your web browser, you can also filter read-alongs by different reading level systems like ATOS levels and Lexiles. You can also find read-alongs in Libby, the mobile app from OverDrive.
See OverDrive's help page for more about read-alongs.
hoopla Read-Alongs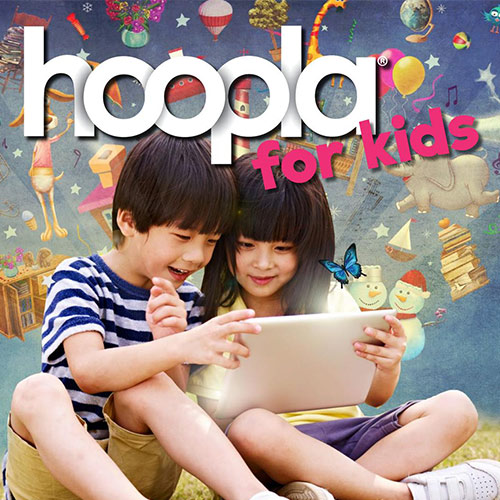 Our online streaming service hoopla also offers read-along eBooks, including favorite series like "Star Wars," "Pete the Cat," "Finding Nemo" and Disney princesses. You can follow along as a narrator enthusiastically reads each individually highlighted word. This is perfect for kids who are learning a new language or for kids who can't quite finish a book on their own. Also try hoopla's mobile app.
---
More Library Support for Parents
Find books on teaching reading by searching the our online catalog for the subject "reading parent participation."
And, don't forget, our staff are here to support you, both in the library and online. Talk with staff at your library or onboard the bookmobile, chat, call or send us an email for more resources on helping children learn to read.

---
New Reader Terminology
Sight Words
Half of all English text consists of just 100 words that reading specialists suggest we learn to recognize by sight.
Phonics 
Nearly 84% of the words in the English language are decodable, which means they follow a "phonemic" pattern and can be sounded out.
Leveled Books
Publishers, educators and educational software developers have different systems to indicate reading levels of books, including Accelerated Reader (AR), ATOS, Book Adventure, DRA (Developmental Reading Assessment), GRL (Guided Reading Levels) and Lexiles. Each system levels books differently and no system categorizes all books. Library staff can help you find books on your child's reading level.