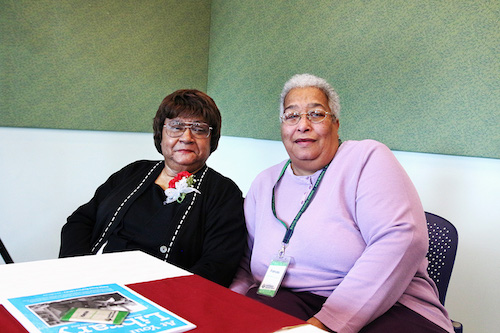 It's unusual for employees today to spend their entire careers at the same business or organization. But that's exactly what Frances Bush and Idenia Thornton have done. With 50 years of service and counting under their belts at the Columbia Public Library, they are the longest-serving employees — and perhaps the closest friends — on staff.
"It's been a long time," says Frances about working at the library. "It doesn't feel like it, though."
Frances, a Columbia native, began at the library on June 1, 1968, after graduating from high school. Idenia, who grew up in Auxvasse, followed six months later in January of 1969. Both were hired by long-time library director Gene Martin to work in the Circulation Department, which is where their friendship began. The two remember their days of ordering books, processing invoices and issuing overdue notices before computer automation existed.
"I started with filing in the card catalog. I don't know if anyone remembers the card catalog now," Idenia says. "We had to do a lot by hand then."
Frances eventually moved to the library's Outreach Department, which takes library materials to those who can't get to the library, and enjoyed many years of traveling around Mid-Missouri on the bookmobile. Idenia also moved, from Circulation to the Technical Services Department, which handles every aspect of acquiring library materials and getting them ready to be checked out by patrons. Both remain in their respective departments today as senior assistants.
Despite all the changes over the years, the two have remained devoted friends and consider each other family.
"We babysat for each other. We went to church together — and dances, picnics, barbeques — stuff like that," Idenia recalls of their youth. "Both of our husbands were in Vietnam, and we stood by each other and were able to comfort each other because we were going through the same thing."
While no one else can claim a half-century of service at the library like Frances and Idenia, there are a number of employees who have recently celebrated work anniversaries ranging from 10 to 40 years. The kind of camaraderie that formed between them is one reason why Idenia and Frances believe employees stay so long at the library.
"People love their jobs here, and that's why they stay," Frances says. "It's home. That's what this place is about — family."
Idenia agrees. "If something happens to one of our staff, it happens to all of us," she says. "We couldn't have a better staff — our library family, as we call it."
Neither Frances, now a grandmother, nor Idenia, a great-grandmother, have any plans for retirement. They are proud to work at the library and to serve the community.
"I hope we never, ever get rid of the library," says Idenia.