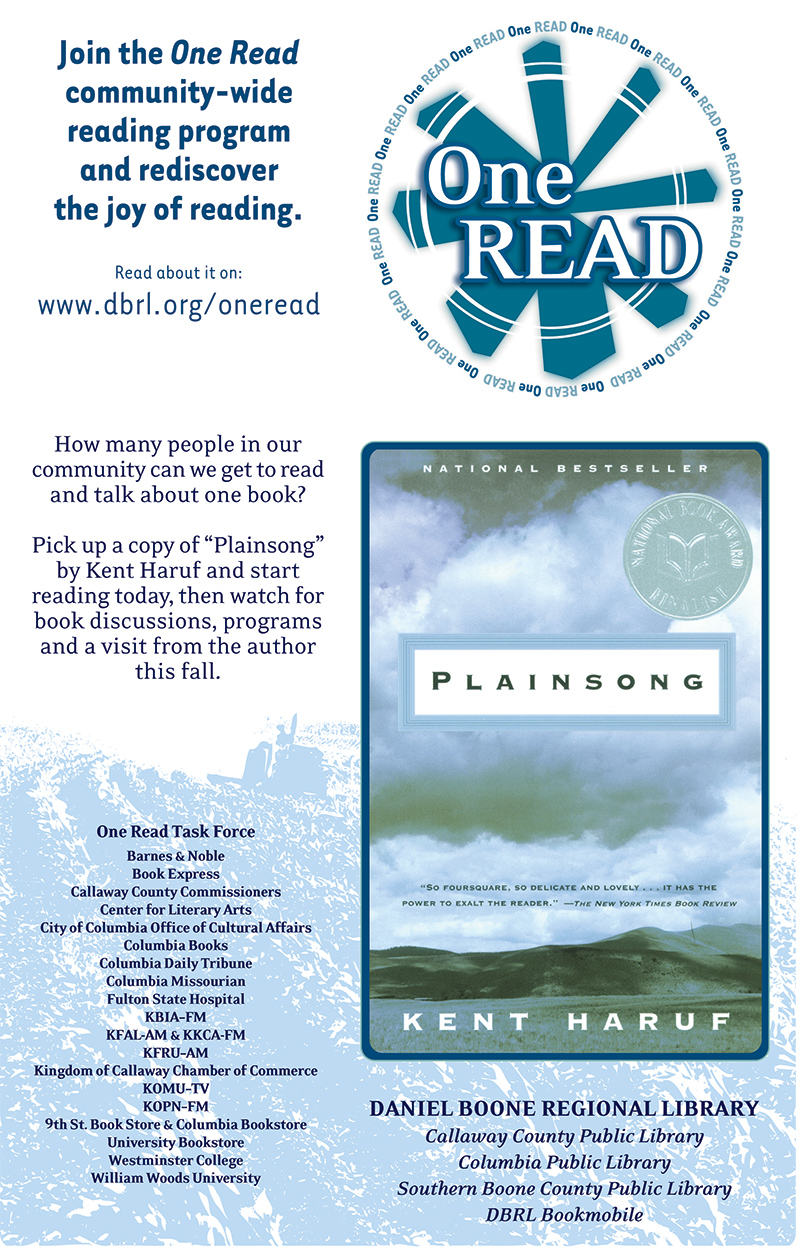 In 2002, the Daniel Boone Regional Library partnered with the Kansas City Metropolitan Library and Information Network to offer the first One Read program in Boone and Callaway Counties. That year, the community voted to read "Plainsong" by Kent Haruf. DBRL librarians Doyne McKenzie and Sally Abromovich served as the One Read co-chairs with the support of DBRL director Melissa Carr and many members of the community.
"There are similar community reading programs across the United States, and I'm proud that DBRL's One Read is now in its 20th year. I think its longevity and continued popularity is due to the community's direct involvement in choosing the books every year and people's enthusiasm for the related events they can participate in each September. Not only do readers get to enjoy a good book, they also get to expand their knowledge by deeply exploring various topics raised in the book," said One Read co-chair Lauren Williams.
This year's selection is "Furious Hours: Murder, Fraud, and the Last Trial of Harper Lee" by Casey Cep. Part true crime narrative, part biography, "Furious Hours" documents the remarkable story of the 1970s-era Alabama serial killer Willie Maxwell, and Harper Lee's attempt to write a book about his crimes, the justice system and racial politics in the deep South. Cep first tells the story of Maxwell, the mysterious deaths of several family members, accusations of voodoo and his dramatic murder at the funeral of his final alleged victim. Cep next dives deeply into the trial of Maxwell's killer (which Harper Lee attended), Alabama politics and the insanity defense. Finally, Cep creates a portrait of a frustrated Lee, trying — and failing — to get to the truth behind the murders onto the page. The result is an extensively researched and immersive work of nonfiction.
"We're excited that the author is available to give One Read's annual author talk. It's virtual again, like it was last year, so more people can safely attend the event," said One Read co-chair Kirk Henley. "We invite people to submit their questions for the author online by September 23, or they can mail their question to DBRL, Attn: One Read, P.O. Box 1267, Columbia, MO 65205." The author talk will be Thursday, September 30 at 7 p.m. People need to register to get the Zoom link. For more information on this speaker please visit prhspeakers.com.
Many popular One Read events are back, with most of them offered online again this year. People can register to attend virtual book discussions, "Furious Hours" Goes to College and more. People can view "Bearing Witness: A One Read Art Exhibit" online. A few in-person events will be offered with health safety measures in place. Ragtag Cinema will be showing a series of experimental shorts on September 23. View a complete list of all this year's One Read events online or pick up a One Read event guide at the library or bookmobile.
"We're excited about the 20th anniversary of One Read and we're doing what we can to celebrate the milestone safely," said One Read co-chair Kat Stone Underwood. "In lieu of hosting a celebratory event, we're inviting people to attend one of the virtual One Read Throwback Book Discussions, view a 'Celebrating 20 Years of One Read' poster exhibit at the Columbia Public Library and pick up an insulated One Read coffee mug at the library or bookmobile. Also, watch for a collection of historical One Read photos that will be added to our online Community History Archive."
One Read, now in its twentieth year, is a community-wide reading program coordinated by Daniel Boone Regional Library and co-sponsored by a task force of local businesses, agencies, academic institutions and other groups that encourages adults of all ages to read and discuss a single book. More information about submitted titles and related One Read topics can be found at oneread.dbrl.org.