I've got a nice mix of things this month! We'll start with some supernatural, horror and fantasy, and move into a Western and a contemporary. Enjoy!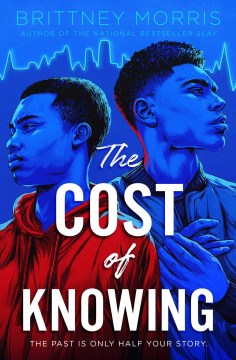 "The Cost of Knowing" by Brittney Morris
Alex can see the future. When he touches objects or people, he sees what will happen days, weeks or even years in its future. Though it may seem like a blessing, Alex knows it's a curse—especially when he sees the death of his little brother Isaiah. He's never been able to change a vision before, but Alex will do whatever it takes to change this one. Being Black in their affluent Chicago suburb presents enough challenges and dangers on its own, and then Alex discovers that he's not the only brother who gets visions. By the author of "SLAY," this is a powerful examination of Black boy joy and pain, as well as the deep bonds between brothers. Perfect for fans of "The Hate U Give" or "Dear Martin."
---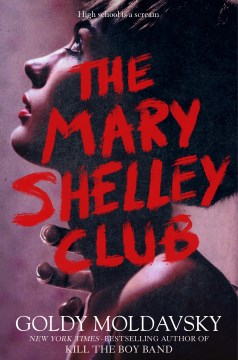 "The Mary Shelley Club" by Goldy Moldavsky
After surviving a traumatic home invasion last year, Rachel has turned to horror movies to help her cope. When her mom takes a job at a fancy Manhattan prep school, Rachel struggles to fit in as the new girl. When she attends a party that ends in a seance and screaming chaos, Rachel spots the prankster behind the scenes and is quickly initiated into the Mary Shelley Club. All horror fans, they spend their time watching horror films and coming up with "Fear Tests" where they try to scare their classmates. As Rachel becomes more involved in the club, the Fear Tests start to go too far and the trauma in her past refuses to stay buried there.
---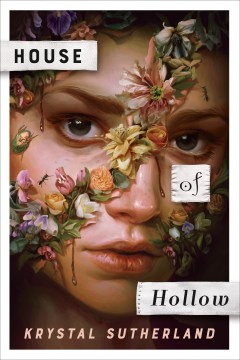 "House of Hollow" by Krystal Sutherland
Here's a bit of a fantasy take on horror instead. Iris Hollow and her two older sisters are famous. Ten years ago, they disappeared from a crowded street in Edinburgh, and one month later reappeared in the same spot, with no memories of what happened. They grew up to be glamorous and influential, with their dark hair fading to white and their eyes changing to black. The eldest sister Grey is an international fashion designer, and Vivi is a successful rock star, but Iris longs to just finish high school and have a normal life. When Grey goes missing, Iris and Vivi have to follow scant clues to try and discover what happened to her. But they aren't the only ones searching for Grey, and they're pursued by a terrifying man wearing a bull's skull as a mask. Things get more and more uncanny and grotesque, as the sisters get drawn back into a magical world they have no memory of. If you're a fan of Holly Black's "Modern Faerie Tales," give this a try, but be warned there are some pretty detailed descriptions of corpses and mutilation.
---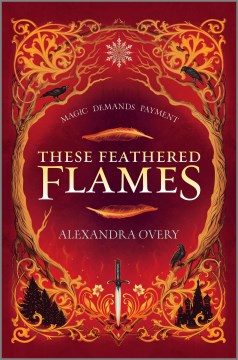 "These Feathered Flames" by Alexandra Overy
Alright, moving on to a fantasy based on a Russian folktale. Izaveta and Asya are twins who have spent the last seven years apart, in training for their future roles as Queen and as the Firebird. While the queen rules the country, the Firebird rules over the magic of the country, ensuring that the cost of magic is paid by all practitioners and that magical balance is maintained. When their mother is killed by magic, the girls must assume their roles early as they hunt down the former queen's killer and struggle to take control of the country. Full of courtly intrigues, detailed world-building, deep bonds of sisterhood and a sweet queer romance, there is a lot to love in this debut.
---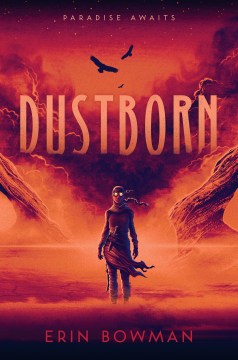 "Dustborn" by Erin Bowman
I don't read Westerns very much, but post-apocalyptic is definitely my favorite kind. Delta and the Dead River pack of people eke out a living by a dried up river, surrounded by dusty wastelands. When Delta visits a nearby settlement to find a healer, she returns to find that her pack has been killed or abducted in a raid. The worst part is that she suspects the raid was meant for her. Since she was five, Delta has had mysterious symbols branded into her back that show the way to the Verdant—a lush, mythical oasis. Determined to rescue her family, Delta sets off to find the leader of the raiders and trade the knowledge of the map for her pack. But the Verdant may be more important than any of them realize. If you've never tried Westerns before, this would be a great way to start, with its dystopian feel, impeccable pacing and driven protagonist.
---
"Somewhere Between Bitter and Sweet" by Laekan Zea Kemp
Let's finish with a contemporary, nothing supernatural this time. Penelope Prado's family runs a restaurant called Nacho's Tacos, a community hub that locals love. Pen dreams of one day opening a pastelería next door, but her parents want her to finish nursing school instead. When she confesses she's skipped an entire semester's worth of classes, she is promptly fired from the restaurant and told she can only continue to live at home if she attends nursing school. Now on her own, Pen meets Xander, a new employee at Nacho's Tacos. Xander is an immigrant from Mexico, living with his abuelo and trying to find his father, all while dealing with constant anxiety about his undocumented status. He begins to flourish in the found family at Nacho's and his relationship with Pen, until a ruthless loan shark threatens the restaurant. Working together, the two must protect Nacho's and everything they love. I know I tend to tell y'all about a lot of food romances, but I love food descriptions so much! You will absolutely want to go eat at your favorite Mexican restaurant after reading this book.