Summer is almost here! I hope that means you'll have some more time to read for fun. Or maybe you already have lots of time to read for fun! Or maybe you're like me and read while you're walking to your car because you don't actually have time to read but still really want to. Anyway. These May new releases are books you'll want to make time for!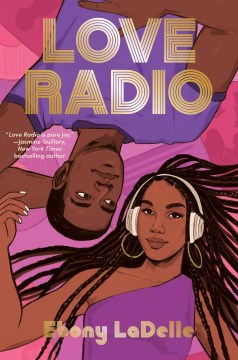 "Love Radio" by Ebony Ladelle
Dani Ford is a senior in high school, focused on her dreams with no time for love. She wants to be the next great Black writer, but lately, she's been struggling to write anything. After a traumatic experience at a party last year, Dani has closed herself off from everything and everyone—which doesn't bode well for finishing her college essays. Prince Jones is also a senior, with dreams of working professionally as a radio DJ. He has his own segment on the popular "Love Radio" where he gives relationship advice to listeners. But with a little brother and mom with advanced multiple sclerosis to take care of at home, Prince hasn't had time for his own romance. He's had a crush on Dani since middle school though, so when he gets the chance to ask her out, he has to follow his own advice. Prince bets Dani that he can get her to fall for him in just three dates. It could be that this support is just what they each need to tackle the problems in their lives. This is a heartwarming and genuine love story, with a focus on family and self-love as well as romantic love.
---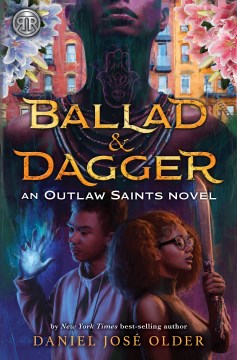 "Ballad & Dagger" by Daniel José Older
Did you love the Percy Jackson books when you were younger? Or maybe you still do, no judgment! The Rick Riordan Presents publishing imprint is finally coming out with YA books. Mateo Matisse lives in Brooklyn now, in a neighborhood named Little Madrigal, after their island homeland San Madrigal which mysteriously sank into the ocean when he was little. Mateo is a musician and looking forward to distinguishing himself at the Grand Fete, a celebration of the survivors from San Madrigal. Instead, his community is shocked when they witness a terrible murder, as the evil that sank their island resurfaces in Brooklyn. The attack awakens an ancient power in Mateo, and he learns he is a channel for the healing god Galanika, who watched over San Madrigal. He's tasked with finding the channels for the other two gods and combining forces to bring back their island. As with any Riordan book, you can expect some phenomenal mythology and adventure, and what's really exciting is the exploration of diaspora, colonialism and colorism. Heads up, this is a duology, so you'll have to wait for the second one!
---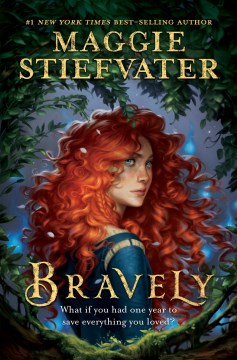 "Bravely" by Maggie Stiefvater
It's been several years since Merida accidentally turned her mother into a bear. Merida has been traveling the kingdom and looking for adventure, bored by the unchanging nature of her family and life at home. Then the god Feradach shows up. Feradach is the god of destruction, who seeks to annihilate areas of rot and stagnation to make room for new growth. Feradach intends to destroy DunBroch until the god of creation appears with a bargain. If Merida can convince her family to change and grow within one year, the kingdom will be saved. Merida takes three different journeys with different family members, to inspire them to break out of their old routines. But of course, sometimes the greatest change that's needed is within yourself. Perfect for fans of the movie, this is a wonderful and canon expansion of "Brave."
---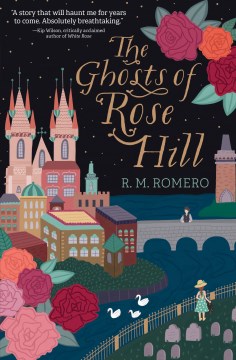 "The Ghosts of Rose Hill" by R.M. Romero 
Next up is a novel in verse. Ilana is the daughter of Jewish immigrants, who want her to choose a stable career and excel in life. When she shows more interest in playing the violin than preparing for the SAT, her parents send her to live with an aunt in Prague for the summer. Instead of studying, Ilana spends her time tending to an abandoned Jewish cemetery behind her aunt's house. It's there that she meets Benjamin, a boy with dark hair, blue eyes and a kind heart—a boy who died over a century ago. Though Benjamin is a ghost, the two fall in love as they explore Prague together. Then a man named Wassermann, who has no shadow, offers Ilana a chance to play the violin and prolong her stay in Prague. But Wassermann is not who he appears to be, and Benjamin and the other ghosts of the cemetery may be in danger. Will Ilana be able to save them if it means losing Benjamin forever?
---
"The Many Half-Lived Lives of Sam Sylvester" by Maya MacGregor
Sam collects stories of kids who died before turning nineteen—half-lived lives. After experiencing a hate crime in their old town, Sam almost joined their number. Now they're starting over with their adoptive father in a new town and a new house. Nonbinary and autistic, Sam is delighted to meet other queer teens in Astoria, especially Shep. Sam and Shep together investigate the story of a teen who died 30 years ago in Sam's new house. Long considered an accident, Sam and Shep aren't convinced. And when they start getting mysterious, threatening letters, they're sure the accident 30 years ago was actually a murder. But will they uncover the truth, or are they just endangering their own future?
---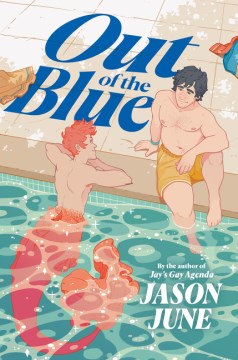 "Out of the Blue" by Jason June
Are you ready for the ultimate summer rom-com? Crest is a merperson who has to leave the ocean to embark on their rite of passage. All merfolk have to help a human within a full moon cycle before they can return to underwater life as a full Elder in the community. The first human Crest encounters is Sean, a high school lifeguard who was just dumped for his ex-best friend. The two decide to fake-date so Sean can make his ex jealous enough to take him back. Of course, Crest has a lot to learn about human culture if they're going to pull this off. As with any good romance, fake-dating leads to real emotions…but what will happen when Crest needs to return to the ocean in a month? This take on the Little Mermaid has plenty of delightful tropes, but what really sets it apart is the way gender identity is treated among merfolks.