Hoopla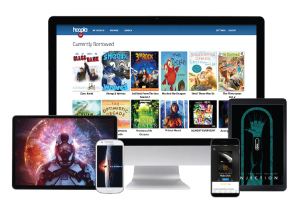 Hoopla allows you to stream and download audiobooks, comics, eBooks, movies, music and television shows.
Check out up to 15 items per month.
Read/watch/listen on the Hoopla app or via computer.
Movies and TV shows check out for 3 days; music albums for 7 days; eBooks, audiobooks and comics for 21 days.
To use this free service, you need to live in Boone or Callaway County and have a current Daniel Boone Regional Library card.
How do I get it?
Visit hoopladigital.com, or download the Apple iOS, Android or Amazon app.
Click "Log In" and then "Sign Up." Select "Daniel Boone Regional Library." You will need to provide your DBRL library card number, PIN (usually your birthdate in MMDDYYYY format), and then create a Hoopla account using your email address and a password you create.
Search or browse for the item you want to borrow, then click or tap "Borrow." The item will now be added to your "My Titles" list.
In a Web browser, click or tap "Play" to begin streaming your item. In an Android or Apple iOS app, tap "Play" to begin listening or watching immediately or the download icon to save the title on your device for playback later. (Note: Firefox may require that you install the Widevine plugin for video content.)
FAQs
How many items can I check out at a time?
As of December 1, 2020, you can check out up to fifteen items per calendar month.
How long can I keep the items I borrow from Hoopla?
Movie and TV content is available for 72 hours (3 days).
Music albums are available for 7 days.
eBooks, comics and audiobooks are available for 21 days.
Can I read, listen to or view what I borrow on more than one device?
Once you borrow a title on one device it is automatically available via all devices with the Hoopla app or on your computer through your browser.
What is the difference between downloading and streaming titles?
All titles are available for streaming (requires continuous internet connection) on a computer or laptop. Using the Hoopla app on an iOS or Android device allows you to download the title for listening and viewing offline. Streaming content to your mobile device when not connected to a Wi-Fi network will impact your mobile device's data allowance.
Hoopla Introduction
More help