Kanopy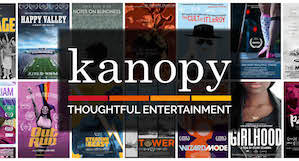 Kanopy offers over 30,000 films and documentaries that you can stream on your computer, television or mobile device.
Watch up to 12 videos per month.
Browse and play videos on the Kanopy app or via computer.
Stream on television using Roku, Apple TV or Chromecast.
To use this free service, you need to live in Boone or Callaway County and have a current Daniel Boone Regional Library card.
How do I get it?
Visit DBRL's Kanopy site or download the Apple iOS or Android app.
Click "Sign Up" to create a Kanopy account.
Confirm your account by clicking the link in the confirmation email (skip this step by logging in with Google or Facebook).
Enter your library card number and PIN when prompted.
FAQs
How many videos can I watch?
You can watch up to 12 videos per month. Depending on the title, you have 48 or 72 hours (2 or 3 days) to finish a film after pressing play. During that period you may watch it as many times as you like. Check your Continue Watching list to see how much time you have left. Your play credits reset on the first of every month.
How do I watch videos on my television?
You can play videos on your television using Roku, Amazon Fire TV, Android TV, Apple TV, or Chromecast. Visit Kanopy's help page for detailed instructions on using your device.
Kanopy Introduction
More help