Have a kid who cannot get their hands on enough graphic novels? We see them flying off the shelves every day here at the library!
Raina Telgemeier, Dav Pilkey and Kazu Kibuishi have produced some of the most popular and reread comic books for kids today. While I fully support kiddos rereading their beloved favorites, sometimes a change is good! However, kids and parents alike might not know the next steps to take and find themselves reaching for that familiar Dog Man book yet again. I hope this post provides a few new suggestions and ideas to further dive into the graphic novel world for your favorite comic lover.
---
Amanda's Picks
When I entered the library world, I knew one thing for certain: if I wanted to keep up with kiddos and have literary conversations, I needed to read comics! Here is a quick list of my personal favorite reads from the past few years. Art style and content vary, however, I am sure there is a new winner waiting in this list for your child who won't stop reading "Guts."
"Sheets" by Brenna Thummler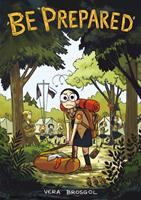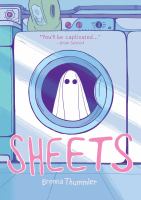 "A Year Without Mom" by Dasha Tolstikova
"Invisible Emmie" by Terri Libenson
"Be Prepared" by Vera Brosgol
"Hilda and the Troll" by Luke Pearson
"All Summer Long" by Hope Larson
"Sidekicks" by Dan Santat
"Nightlights" by Lorena Alvarez
"Giants Beware!" by Jorge Aguirre
"Awkward" by Svetlana Chmakova
---
Creating Comics
If your child ferociously reads comics, they will probably enjoy creating their own! Google has tons of free blank comic panels to print that make creating stories a breeze. This helpful list of nonfiction titles will teach kids the mechanics of drafting, illustrating and writing comics.
Maker Comics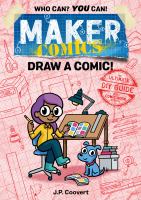 is a great educational series for kids who love getting creative and learning new trades! It is no wonder that "Maker Comics: Draw a Comic" is my favorite on this list. This title will introduce kids to the steps to take to start their own comic. Cartooning vocabulary, layout, printing, scanning, tools and everything in between are covered in quick, approachable lessons! Witty humor and a simple story is also woven through the pages. This is a must read for any up and coming artist.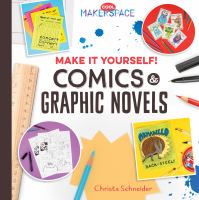 "Make It Yourself: Comics and Graphic Novels" by Christa Schneider provides another great introduction to comics and graphic novels. Each page features a simple lesson in cartooning, like characters, panel design, and tools and ending with a tutorial on creating a mini-comic. Colorful pictures and simple text make this a great workbook to walk through with your creative child.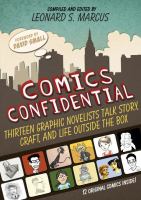 "Comics Confidential: Thirteen Graphic Novelists Talk Story, Craft, and Life Outside the Box," compiled by Leonard S. Marcus, is a wonderful read for further educating young cartoonists! Thirteen graphic novelists discuss their trades, inspiration and beginnings in interview format, alongside beautiful comic panels. Backstories on favorite characters, opinions on turning beloved classics into graphic novel format and twelve original comics await!
Comics are a medium not to be underestimated. (Check out this past post of ours for proof!) They introduce kids to hard concepts in an approachable way, provide oodles of laughter and even make the most obscure history lesson fascinating! Fostering your child's love for comics is a great way to support their learning and a key opportunity for molding them into a life-long reader. Help them pick out a new comic or start creating their own today!