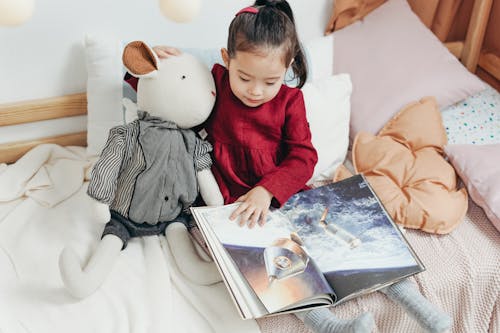 A picture is worth a thousand words, right?
Wordless picture books open up all sorts of opportunities for children to engage with what they are reading and have more control over the story. Books without words allow readers the opportunity to lead — children can tell the story the way they want, and the story can change up during each read.
Below are some of my absolute favorite wordless picture books for kiddos. Enjoy!
---
"Inside, Outside" by Lizi Boyd
This wordless book features window views to the outside and inside. Cutouts take readers from one season to the next, from inside the house to outside the house.
---
"Skunk on a String" by Thao Lam
A poor skunk has gotten his foot caught in the string of a balloon! He is taken by the wind and sees all sorts of different places.
---
"Sign Off" by Stephen Savage
What happens at night to those street signs? When the humans are away, the signs will play!
---
"Field Trip to the Moon" by John Hare
A futuristic field trip to the moon goes wrong when one of the students is left behind! Luckily, the student has a box of crayons to stay entertained. However, this student will quickly learn that they are not alone on the moon. Other creatures live there and have never seen crayons before!
---
"Pancakes for Breakfast" by Tomie DePaola
This book will make you crave pancakes! The main character wants to have some delicious pancakes, but she doesn't have the ingredients to make them. She must do all the hard work to get her pancakes, but, just as she's rounding up the maple syrup, her cat has gobbled up all her pancake batter! How will she get her delicious pancakes?

Want more wordless picture books? Here's our (Mostly) Wordless Picture Book List!
---
Check out these articles from Scholastic on wordless picture books: