I love snuggling up under a pile of blankets (and my dog!) and not moving for hours, and these new books provide a wonderful excuse! Use them if you need inspiration for Winter Reading, our reading program where you set your own goals. For example, you could make your Winter Reading goal: Read a new book with a person of color on the cover! Just saying.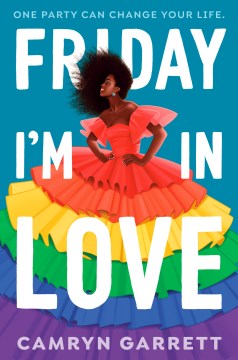 "Friday I'm in Love" by Camryn Garrett
Look at this dress! How can you not pick this book up? Mahalia had been looking forward to a Sweet Sixteen party for years, but when her birthday rolls around there's no way her single mother can afford it. It doesn't help that Mahalia's best friend got a super extravagant party. On top of dealing with her party disappointment and awkward crush on the new girl at school, Mahalia is struggling with how to come out to her mom. Then she decides that she'll throw herself a coming out party, with rainbow everything and tons of dancing. She starts to save every penny from her afterschool job, but as her home life and school start to spiral out of control, the party may be just out of reach.
---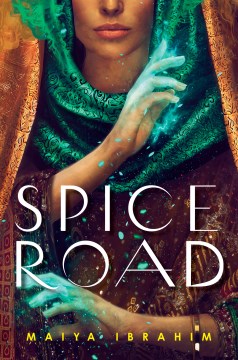 "Spice Road" by Maiya Ibrahim
Imani is a Shield for her people. She and the other Shields wield a magic granted by drinking Spice, a tea made from the bark of the misra tree. The Spice affects each of them differently. Imani has an affinity for iron, and the tea enhances her skill with a dagger. Others have affinities for wind or fire, or even controlling animals. While Imani is honored for her skill and position as the youngest Shield, her family's reputation was compromised when her older brother disappeared into the desert after stealing Spice. Everyone is convinced that he died in the wilderness, but when Imani receives word that he may be alive she is eager to set out and bring him home. Even if that means he'll be facing justice at the hands of the city leaders. As Imani ventures out beyond her insulated desert city, she learns more about her world than she'd ever imagined. This debut is the first in a planned trilogy and has some amazing worldbuilding in its Arabian-inspired setting.
---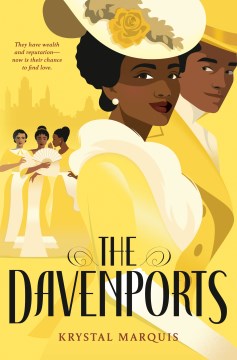 "The Davenports" by Krystal Marquis
Last up, we've got a historical fiction that follows a wealthy black family in 1910 Chicago. The Davenport name was built by their formerly enslaved father, and now the three Davenport children enjoy immense wealth and privilege in Chicago society. The eldest daughter Olivia is preparing to make an advantageous marriage, but a civil rights lawyer from Alabama may prove to be a distraction. Her sister Helen disdains society and spends all her time fixing horseless carriages with their brother John—without her parents' knowledge. The narrative also follows Olivia's best friend Ruby, who has been hoping for years for a proposal from John. With her family's fortune dwindling, the match is more important than ever but may not even be what Ruby wants anymore. The final perspective is from maid Amy-Rose who grew up with the Davenport siblings. She's been dreaming of owning her own hair salon, but faces challenges as a single young Black woman…especially if she falls in love with the wrong person. There are major "Downton Abbey" vibes, but the focus on a Black family allows the author to highlight issues like civil rights and racism while still celebrating Black achievements in the post-Reconstruction era. I'm so excited for this one! It's the perfect mix of romance and drama and history!