How's that To Be Read pile looking? Dangerously low? Now's your chance to squeeze in as much reading as you can before school starts back up, but don't worry, I've got you covered! Not gonna lie, most of my picks this month have some romance, but if that's not your thing I've also got a thriller with an unreliable narrator.
"Into the Sublime" by Kate A. Boorman
In case you couldn't guess from the cover, this is the thriller. The story begins at the ending, as three girls emerge from a cave. Two are immediately rushed to the hospital, one is covered in blood that isn't hers, and begins to tell their story to the police. And one girl is missing. The four of them were part of a thrill-seeking group that was following local legends about an underground lake. Rumor says that anyone who faces their greatest fear at the lake will have something big changed for them. The story unravels as it unfolds, with an increasingly untrustworthy narrator and claustrophobic psychological and supernatural horror. Pair this book with a trip to the Devil's Icebox trail and Connor's Cave if you really want the full experience.
---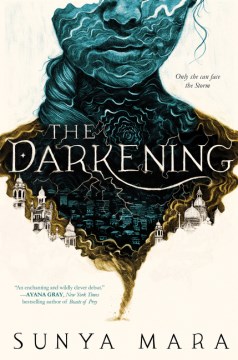 "The Darkening" by Sunya Mara
Vesper and her father live in hiding, in a city surrounded by a brutal storm. Twelve years ago, Vesper's mother rebelled against the ruler of the city and was cast out into the deadly storm. Now the prince and his soldiers have found Vesper's father, and she is desperate to save him before he faces a similar execution. Using her father's ikonomancy books, Vesper joins the city's sorcerer-soldiers to get close to the prince. When she does, she realizes that nothing is as straightforward as she thought and that her father isn't the only one in need of rescue. The magic system is intriguing, the storm is its own character, and the enemies-to-lovers romance is satisfying—but don't expect a tidy ending in this duology opener.
---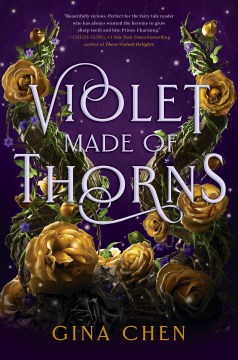 "Violet Made of Thorns" by Gina Chen 
This next book is another enemies-to-lovers romance…emphasis on the enemies. Violet was an orphan living on the streets, but when she used her Sight to avert the prince's death, she was quickly elevated to be the king's new Seer. While she does have true visions, the king often calls on her to sway public opinion with false prophecies. Violet doesn't hesitate, and her confident lies and cynicism often set her at odds with Prince Cyrus. The king wants Cyrus to marry soon, and Violet declares a fabricated prophecy of a politically advantageous marriage for him. The truth is that there's another prophecy that the fate of the kingdom depends on Cyrus' choice of bride, and Violet has Seen that either Cyrus must die or she will. Of course, this is when the two find themselves drawn to each other against their better judgment. Violet is a wonderfully flawed antiheroine, and if you want to watch a character making terrible decisions in the midst of court intrigues, this is the book for you.
---
"You, Me, and Our Heartstrings" by Melissa See
Next up is a contemporary romance, no fantasy this time. Daisy is a violinist attending a prestigious music school in New York City and dreaming of making it into Juilliard. She also has cerebral palsy, a thing that few people are able to look past. When she's paired with cello prodigy Noah for a concert duet, she hopes their performance will lead to scholarship attention from Juilliard. As they rehearse together and argue about music, the two fall in love, and their concert performance is nothing short of electric—especially with their on-stage kiss. Their duet goes viral, and suddenly they have more attention than they need. Strangers have opinions about every aspect of their lives and relationship, and Daisy is faced with even more patronizing ableism while Noah deals with increased anxiety. This is a unique take on falling in love in the limelight, with a great perspective from a disabled author.
---
"Lia and Beckett's Abracadabra" by Amy Noelle Parks
Lia Sawyer is from a family of stage magicians and loves to perform, but finds little support from her parents. They'd rather she focus on honing her impressive mathematical skills instead. So when Lia receives an invitation from her eccentric grandmother to participate in a summer magic competition, she leaps at the chance. Things become complicated when she has a meet-cute with Beckett Blackwell, who's also there for the competition. The Sawyers and Blackwells have been rivals for generations, but Lia and Beckett's mutual attraction is impossible to ignore. To complicate things further, Lia's grandmother has gone missing and left mysterious clues along with her collection of tricks. Not only is this a fabulous slow-burn romance, it also gives a backstage glimpse into the world of illusions and magic while calling out the sexism that still pervades the industry.
---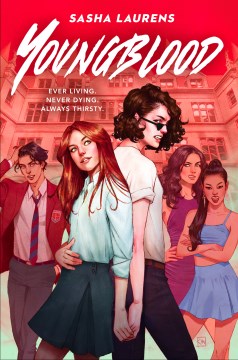 "Youngblood" by Sasha Laurens 
We're finishing out our list with a paranormal romance! Vampires survive by drinking Hema, a synthetic blood that was created after a virus swept through humanity and made their blood toxic to vampires. Kat and her mom can barely afford enough Hema to survive, and Kat longs for more in her immortal life. She applies to the prestigious Harcote Academy, a boarding school for vampires, and is delighted to be accepted with financial aid from a mysterious benefactor. When she gets there, she's shocked to find her roommate is her former best friend Taylor, whom she fell out with years ago. While Kat is desperate to fit in with her wealthy classmates, Taylor is fed up with the elitism and conservatism, especially as an out and proud lesbian. As their friendship slowly rekindles into something more, they uncover a web of lies and secrets that will affect not only them but all vampires. Perfect for fans of dark academia, this queer vampire boarding school story has all the drama you could desire.