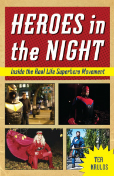 I picked "Heroes In the Night" from a library display because I had not heard of Real Life Superheroes before. The author becomes interested in Real Life Superheroes (RLSH), and then tries to learn more about them through online resources, meeting and interviewing some, and eventually going along with several on their nighttime crime patrols and other activities. Tea Krulos offers fair, balanced insights from RLSH participants, their family members, critics of the movement and others, such as law enforcement members. Krulos' writing style is very contemporary and hip, but at times this annoyed me. His witty observations and remarks sometimes seemed to get in the way of the stories he was trying to share. I liked the balanced reporting of RLSH that do less-dangerous activities, like environmental clean-ups, supporting very sick children and raising awareness of causes such as veganism. An average person, like myself, could choose to do many of these things.
Three words that describe this book: Offbeat, geeky, yet inspiring
You might want to pick this book up if: You have ever wished that superheroes could be real. That is possible, and you could even become one!

-Lynn
Save
Save