The library is closed on Saturday, July 4th, but all branches will be open on the 3rd, and the Columbia Public Library will be open its usual Sunday hours on the 5th! Try some of the Fourth of July crafts below – great for kids who want to get in on the fun but might not be old enough for fireworks.
A Handy Flag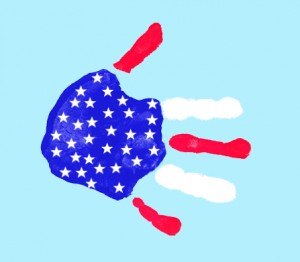 Supplies
Finger Paint (red, white and blue)
Construction paper (any color aside from red, white or blue, i.e. typical flag colors)
Star hole punch (or grab some star stickers)
Take your star hole punch and punch out lots of little stars.
Paint the palm of your hand blue.
Paint your fingers alternating with white and red
Make your handprint on a piece of construction paper.
Wash your hands
While the paint is still wet, put the stars all over the blue paint
Let dry and wave your hand flag in the air!
This is a fun craft for kids to do during your Fourth of July celebrations. It will keep them busy for a little while … and who doesn't like getting paint all over their hands!?
Fireworks Art
Supplies
Paint (just one or two colors is fine)
Black construction paper
Toothpicks
Glitter
Place a spoonful of bright colored paint on a piece of black construction paper.
Have your child use a toothpick to draw lines of paint out from the paint blob to make a fireworks design.
While the paint is still wet, let your child add sparkles by sprinkling on a little glitter.
The more comfortable you are with your little one and paint, the more colors they can use to create their night sky of fireworks!
Fourth of July Windsocks
Supplies
Paint
Cardboard tube (such as toilet paper tube)
Tissue paper or ribbon
Yarn and/or string
Star stickers
Have your child paint a cardboard toilet tissue tube blue.
When the paint has dried, star stickers can be attached.
Then give your child thin strips of red and white crepe paper or ribbon to glue around the bottom of the tube for streamers.
To complete, poke two holes on opposite sides of the tube at the top and tie on a yarn or string hanger.
Have your child fly their windsock back and forth while watching fireworks. Happy Fourth of July!
(For more craft ideas for year-round fun, check out one of the many craft books for kids from your library!)