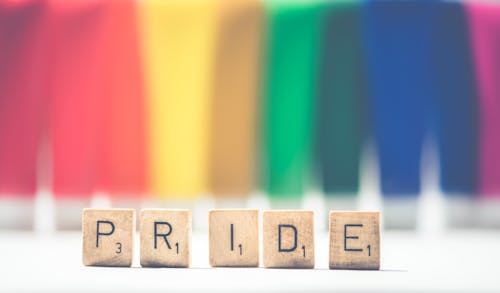 One of my favorite events is coming up in Columbia! On Saturday, August 24, MidMO PrideFest will be kicking up a glitter storm down at the Rose Music Hall.
While June is traditionally set aside as Pride Month to honor the Stonewall Riots, residents of Mid-Missouri are lucky enough to celebrate Pride twice. This family-friendly event celebrates the LGBT+ community and their allies. The event includes fun vendors, information booths and live performances.
BONUS: The DBRL Bookmobile, Jr. crew will be at MidMO Pridefest from 1 to 6 p.m. on Saturday, August 24. That's right—if your family is headed to MidMO Pridefest this year, you'll see the library there! Feel free to join us and bring your library cards to check out fun materials or learn about library resources. We can also MAKE library cards if you need one!
A special way that I like to celebrate Pride is with my favorite LGBT+ children's books. Recently, I consulted with some of my fellow library associates to get a diverse range of books covering topics like gender, sexuality, different types of family, found family and identity. I compiled these books into a new list, LGBT+ Picture Books for Kids (That Adults Also Enjoy).
I have included some of my favorite examples below!
"Pride Colors" by Robin Stevenson is a cute board book made for the early Pride crowd. It focuses on the rainbow flag associated with Pride. The pictures are bright and colorful and will keep any baby's attention.
"It Feels Good to Be Yourself" by Theresa Thorn is an introductory book to gender identities. It talks about students learning about each other's gender identities and accepting people's desired pronouns.
"When Aidan Became a Brother" by Kyle Lukoff is one of my favorites. Aidan's family mistook him for a girl when he was younger. But they have grown as a family, accepted his preferences, and are preparing to have a second baby. Aidan is a
little apprehensive about this experience, wanting to protect his new sibling from the experience he had growing up in a gendered environment. Aidan wants to be the best older brother he can be!
"Introducing Teddy" by Jess Walton stars Thomas the Teddy. Thomas has a secret that they need to tell their human, Errol. It's very difficult for Teddy, and they worry that Errol won't want to be friends anymore. The teddy reintroduces herself as Tilly, a girl bear. Errol, the human boy, values their friendship more than anything and wants Tilly to just be happy. Nothing changes between them, they're the same people, and Tilly is just happier being herself.
From our library family to yours, happy Pride!