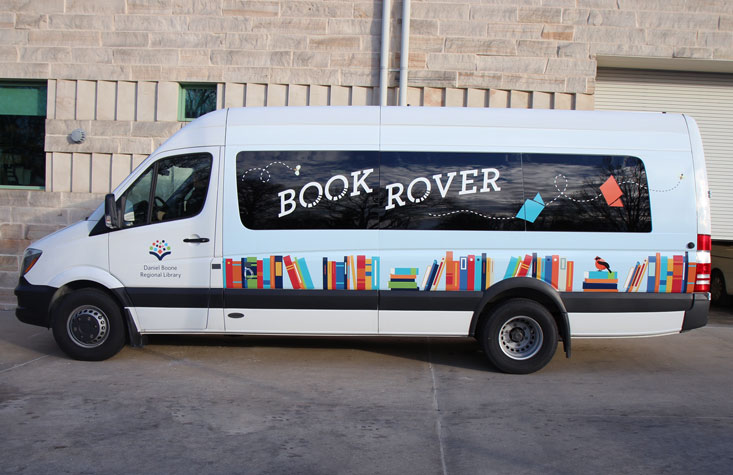 Not all children have books at home or have ever visited a library. Does it matter?
Yes, it does. So we're taking the library to them. We understand that demands on families may make getting to a library a challenge, so we are reaching preschoolers where many spend their weekdays: at a child care center.
"The science is clear: there are long-term positive outcomes for children who begin learning from birth, and for 15 million children in America each week, the child care setting is an opportunity to learn and set healthy habits for life." (Source: Child Care Aware of America, 2016 State Fact Sheets)
Thanks to many people and businesses who donated more than $158,000 through the Daniel Boone Regional Library Foundation, we were able to buy the Book Rover entirely through private funding. The Book Rover is a specialized van that comes equipped with shelves that we load with books. The children and teachers we visit at child care centers browse through the mini collection and check out what they want. They can read the books on the spot or take them home. While there, we also offer story times and mentoring to child care staff on how to incorporate school readiness skills into their daily activities.
"We started going to licensed child care centers nine years ago with Bookmobile, Jr., and we've been wanting to expand this service for a long time," said Sarah Howard, Youth Services Manager at the Columbia Public Library. "The Book Rover allows us to do that. It's a small enough vehicle that we can visit a wider variety of places than we could with a bigger bookmobile."
The Book Rover visits licensed child care centers in Ashland, Columbia and Fulton, while Bookmobile, Jr. visits licensed child care centers in communities without a library facility. Staff began taking the Book Rover out in February. We received a wonderful reception at our first child care center stop, where we saw 77 children and adults who checked out 130 items!
"Improving early childhood literacy is such an important part of what we do here at the library, that being able to expand our efforts to more kids is a dream come true," Howard said. "We're off to a great start. But how we measure its success goes beyond the number of books the children check out. It's how having access to books translates into the child's success in school and over their lifetime as a lifelong learner."