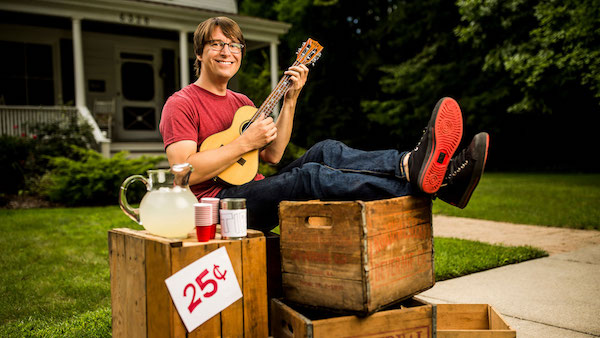 The library is hosting a free concert June 1 featuring Justin Roberts and The Not Ready for Naptime Players. After Daniel Boone Regional Library director Melissa Carr retired in January 2018, the DBRL Foundation established the Melissa Carr Literacy Through The Arts Fund. For the second year, monies from this fund are helping to bring in a popular children's performer to kick off Summer Reading. Last year, the guest performer was Laurie Berkner.
Justin Roberts and The Not Ready for Naptime Players will perform at the Missouri Theatre, 203 South Ninth Street, Columbia, MO at 11 a.m. on Saturday, June 1. Tickets are free and can be requested through www.dbrl-justin-roberts.eventbrite.com. The library asks that if you end up not being able to attend the concert, to please pass your tickets along to another family or cancel your ticket order through Eventbrite.
Three-time GRAMMY nominee Justin Roberts is part of the indie family music scene, and has been writing songs that navigate the joys and sorrows of growing up for 20 years. He began his music career in the 1990s, performing in the Minneapolis-based indie-rock band Pimentos for Gus. He decided to "moonlight" as a Montessori preschool teacher, and it wasn't long before Justin began writing and singing songs for his students. The kids immediately responded and inspired Justin to record some of his new songs and give them to friends. One of the gift recipients was Liam Davis, a college pal and music producer, who suggested that they record the songs professionally. In 1997, Justin released his first family CD "Great Big Sun" and recorded 12 other albums since then. His newest album is titled "Lemonade" and his second picture book "The Great Henry Hopendower" is now out.
Justin and his band, The Not Ready for Naptime Players, have travelled the globe. Other band members include Liam Davis (electric guitar/keyboards/vocals/musical director), Gerald Dowd (drums/vocals), Jacqueline Schimmel (bass/vocals/band archivist) and David Winer (trumpet/keyboard/percussion).
Anyone living in Boone and Callaway Counties is invited to attend this concert. The Daniel Boone Regional Library system includes the Callaway County Public Library, the Columbia Public Library, the Holts Summit Public Library, the Southern Boone County Public Library and the bookmobiles.