Happy May the Fourth! I love just about everything Star Wars has to offer — from the amazingly independent Princess Leia to the fierce, but cuddly Chewbacca, to the adorable Porgs, and don't get me started on my obsession with Grogu (aka The Child or Baby Yoda)! Here are some fun things you can do at home to celebrate May the Fourth and the Revenge of the Fifth.
We'd love to see what you make, so send us pictures or videos to teen@dbrl.org.
Brush up on your lightsaber skills!
Use the Force and strengthen your skills as the library's very own Jedi Master Dana instructs you on proper lightsaber technique. This video will take you from Padawan to Jedi Knight in no time.
Make a stop motion video!
"The Child" is a short video that I made using Stop Motion Studio for Apple and Android devices. The video was made with a paid version ($4.99), but you can download the app and have basic functions for free. Using some polymer clay and some backdrops I was able to create a fun little scene.
To create your own video here are some tips and tricks to help you get started.
1. Gather your materials: backgrounds, figures, and props
2. Make a plan, set the scene, will there be more than one?
3. Take a minimum of 30 images per scene and at least 3 images per movement. This makes the action less jerky. The more images you take, the more you have to work with!
Bake something from a cookbook from a library not so far, far, away!
When I saw the new Star Wars cookbook, "Star Wars Galactic Baking: The Official Cookbook of Sweet and Savory Treats From Tatooine, Hoth, and Beyond" I knew we'd have to put on our aprons, get out the flour and start baking! Many of the recipes were fairly complicated, but the Sith Cookies are relatively straightforward (see recipe below). You do have to use a lot of red food coloring, so be careful not to stain your Jedi robes. **Note you'll want to splurge for the dark chocolate cocoa powder so they look fully on the Dark Side!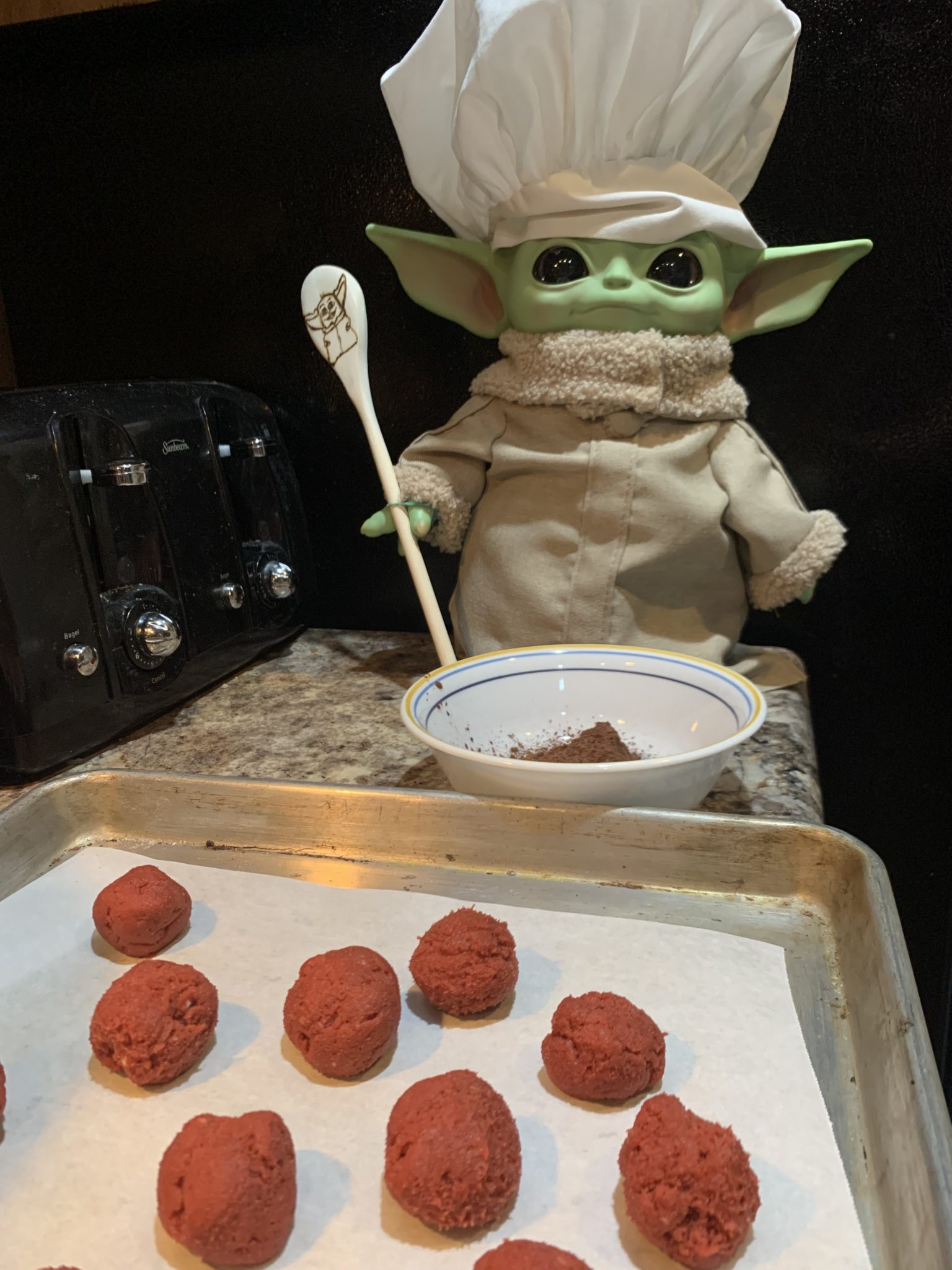 Sith Cookies
Active time: 45 min. Total time: 3 hours. Makes 30 Cookies.
3 cups all-purpose flour
1 cup + 1 tablespoon
unsweetened dark cocoa
powder, divided
2 teaspoons baking powder
¼ teaspoon baking soda
¾ teaspoon salt
¾ cup unsalted butter, softened
1⅓ cups granulated sugar
3 large eggs
1 tablespoon whole milk
1½ teaspoons vanilla extract
2 teaspoons lemon juice
1 (1-ounce) bottle red food coloring
1. Preheat the oven to 350°F.
2. In a mixing bowl whisk together flour, the 1 tablespoon cocoa powder, the baking powder, baking soda, and salt; set aside.
3. In the bowl of a stand mixer fitted with the paddle attachment, whip butter and granulated sugar until pale and fluffy. Mix in eggs one at a time, blending until combined after each addition. Mix in milk, vanilla, lemon juice, and red food coloring. Mix in flour mixture on low speed just until combined. Cover bowl with plastic wrap and chill for 2 hours or until firm enough to shape into balls.
4. Line two large rimmed baking sheets with parchment paper. Place the remaining 1 cup of cocoa powder in a shallow dish. Remove dough from the refrigerator and shape it into 1-inch balls. Roll each cookie ball into cocoa powder and evenly coat. Transfer to prepared pans, spacing 1 ½ inch apart. Bake the cookies for 8 to 10 minutes. Remove from the oven when the cookies are just set on the edges, but before they get too browned.
5. Let cool on the pan for 5 minutes. Transfer to a wire rack to cool completely. Store at room temperature in an airtight container. (You can also freeze them in layers, placing parchment paper between layers so the cookies don't stick when you thaw them.)