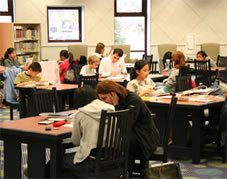 Could your child benefit from one-on-one support in reading or math? Free virtual tutoring is available in these subject areas for Columbia Public Schools students through our partnership with "A Way With Words and Numbers."
This service is open to students in kindergarten through 8th grade. During a tutoring session, your child will work with an MU undergraduate student via a secure Zoom session for approximately 30 minutes. Sign up for a tutoring timeslot online.
This service is available during most of MU's fall and spring semesters (mid-September through early December and February through early May). To learn more, we invite you to call the Columbia Public Library at (573) 443-3161.