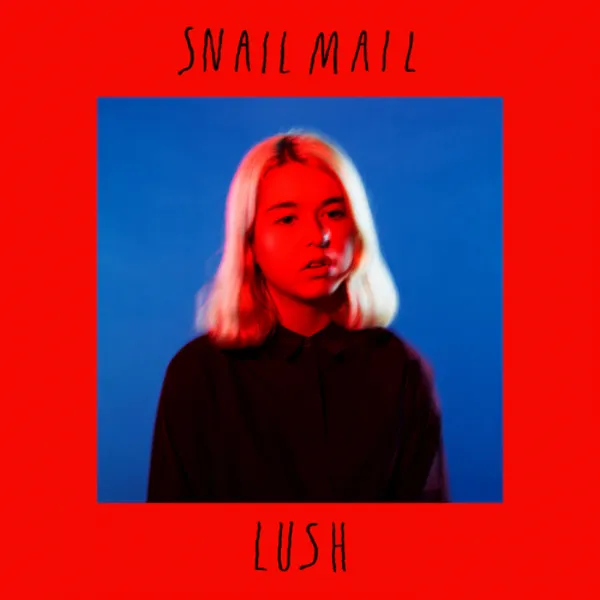 I. Going Somewhere
The first time I listened to Snail Mail's 2018 album "Lush" was on a train to Chicago, newly heartbroken and on my way to see a dear friend. The sun was rising on a frigid November morning. I felt relieved to be tucked away, going somewhere.
I curled up against the window and hit "shuffle." Track three, "Speaking Terms," greeted me with a moody lead guitar and swept me up in its driving rhythm.
I was startled by Lindsey Jordan's voice, youthful and piercing yet deeply world-weary.
"Leave things on speaking terms / And I'll see you around," she sang. I closed my eyes.
Some albums win you over with their expansive emotional and musical range. For me, "Lush" was not one of those albums.
Rather, listening to "Lush" feels like tuning into a singular, excruciating emotional frequency; like walking into a waterfall and letting the roaring wall of feeling crash through you. Heartbreak. Youth. Shame. And still, love. Over and over again, until your heart emerges a shiny pebble.
II. Anytime
"You suck and I hate you, but at the end of the day I totally love you," Jordan said to sum up the album's tenth and final track, "Anytime," in a 2018 interview with Stereogum.
If this sentiment feels juvenile, it might be because Jordan was 18 years old in 2018, and even younger during the album's writing and recording. She was still attending high school in Maryland when she signed with Matador Records, a label whose current artists include indie rock bands Car Seat Headrest and Yo La Tengo, alongside confessional singer-songwriters Julien Baker and Lucy Dacus.
On this spectrum of artists, the 2018 iteration of Snail Mail falls somewhere in between. Drummer Ray Brown and bassist Alex Bass back up Jordan's guitar and vocals to form a strong trio on "Lush." But look up the writing credits of any track on the album, and you'll find Jordan's name listed alone, every time.
As a result, the songs are intensely sincere.
Jordan says "Anytime" is an ode to self-growth and preservation. She describes how staying in an unhealthy relationship can become a form of self-harm. Amidst this pain, walking away is the most impossible, and most important thing to do.
"It's how it goes, and even in that, you can acknowledge that you really love someone and care about them, and would do anything for them," Jordan said in an interview with Rob Hakimian.
I didn't get to "Anytime" during my listening on the train. In fact, I would be stuck in the first half of the album for months, wallowing in the great heartbreak anthems of "Lush."
III. The Anthems
Tracks 2–4, "Pristine," "Speaking Terms" and "Heat Wave" are heavy hitters. These three are some of the longest songs on the project, with "Pristine" and "Heat Wave" clocking in at five minutes a piece — a rarity in the modern era of bite-sized bops.
These songs feel like fully realized compositions; ecstatic declarations of heartbreak from a young artist with a crystal-clear voice.
"'Lush' is so deliberate and stylized," Jordan said to Hakimian. "Everything is fully mine."
"I know myself and I'll never love anyone else," she sings earnestly on "Pristine." The song builds up to a powerful bridge, charged with desperation: "Be honest with me / Who do you change for?" she pleads. "No more changes," she concludes. "I'll still love you the same."
This wild, devotional energy gives way to a more reflective tone in the album's second half. Track eight, "Full Control," radiates a stormy self-assuredness: "I'm in full control / I'm not lost / Even when it's love / Even when it's not."
"That's a passionate one," Jordan said of 'Full Control.' "When we were working on it I was like, I have to find a way to make this vocal distinctly angry from the rest of them."
IV. Spring
By the time we reach the album's end, this anger has softened and melted away.
Months after that train ride to Chicago, when I finally found myself able to listen to "Anytime," it felt like something within me had shifted and settled: "I've gotten to know the quiet," Jordan sings on this final track.
The next line  — the last words of the song — varies depending on the lyric site. "Still forgive you anytime," says Genius. AZLyrics.com offers an interesting reading: "Still prefer you anytime."
I've always heard, simply, "Still, for you, anytime."
These final, adoring words are embittered by a sobering truth: still, after all of this unimaginable pain, there's room in my heart for you — anytime.
It was spring by the time I had learned and resonated with all the words. My hair was a new color; winter had come and gone. I was at the end of the album, and realized it sounded a lot like the beginning. I had a feeling like I had ended up exactly where I had begun — loving and loving, at my own eternal risk.
Only this time around, I possessed a serene, even jubilant acceptance of this fact, and after some time, this acceptance alchemized itself into a fierce feeling of care for my own heart. This, I believe, is the meaning and power of "Lush."