Delia Remington is a Mid-Missouri author who writes books focused on the horror genre. Her latest project is "Dark Conjurings," an anthology of horror and fantasy stories that she edited and published that includes six tales from various authors, including one story by Remington herself. The book was a Gold Medalist from the 2020 eLit Awards for Anthology ebooks, a Silver Medalist in Fiction: Horror for the 2020 Ben Franklin Awards sponsored by the Independent Book Publishers Association, and a Silver Medalist in Fiction: Anthology for the 2020 Midwest Book Awards sponsored by the Midwest Independent Publishers Association. I recently emailed some interview questions to her, and she was kind enough to take time out of her schedule to write back some answers.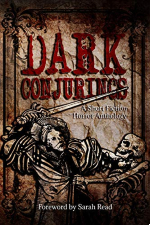 Daniel Boone Regional Library: How did you start up the "Dark Conjurings" horror anthology and assemble the authors for the book?
Delia Remington: Each of the authors in the "Dark Conjurings" anthology is someone I met on Twitter. Though we're scattered all over the world, we all love the same genres of fiction and fell into easy conversation about writing and storytelling. I've known all of them for over five years, and we share common interests in the same television shows, movies, books and graphic novels. My friend Karolyne Cronin and I were talking about short stories and agreed it would be fun to publish a book with people whose writing we admire, so we messaged folks we thought would be interested, and they were all enthusiastic about participating. We all know one another well, so we supported and encouraged one another throughout the process. My friend Mimi Schweid was living in Manhattan at the time, A.R. Reinhardt lives near Boston, Cassy Crownover who also did the cover design and interior graphics is in Florida, Karolyne Cronin is from St. Louis, I live here in Mid-Missouri, and my friend Jai Lefay is from New Zealand, so we come from diverse backgrounds, but we have a deep love of story and found a kinship with one another. I think our stories reflect that bond of friendship, and I'm very proud of all the hard work everyone put into the book.
DBRL: Your story in the anthology is about a fictionalized version of author Mary Shelley, and how she might have been inspired to create "Frankenstein." What sparked the idea for this story? Did you have to do a lot of historical research to write it?
Remington: Mary Shelley is really the mother of the sci-fi/horror genre. I've always been fascinated by her life. "Frankenstein" was first published in 1818, and to have written that book at age 19, at the same time period that Jane Austen was writing, is extraordinary. I originally wrote this story at the time of the 200th anniversary of "Frankenstein" as a way of exploring the unknowns surrounding the book's creation. I was interested in learning about the relationship she had with Doctor John Polidori, who was the personal physician to the poet Lord Byron. They had met in Geneva in the summer of 1816, and hit it off. There was a famous storytelling competition during which her book was conceived, but Polidori himself also wrote what became the first vampire novel in English, entitled "The Vampyre." She and Polidori were close to the same age, and when her husband Percy Shelley and Lord Byron decided to go on a tour of the area near Geneva, she and Polidori spent time working together on their stories. Polidori was fresh out of medical school, one of the youngest graduates of Edinburgh University at age 19, and I find it impossible to believe that she didn't draw on his experiences when writing her crucial chapters that deal with medical information. His knowledge would have been extensive and cutting edge for the time. And though she never acknowledged him in the book itself, I think his influence is obvious when you look at the scientific aspects of the story. Polidori was a tragic figure. He was fired by Lord Byron in the early fall of that year, and he struggled to make a living after that. He never really got the praise and recognition for his writing that he so clearly craved, and in 1821, only three years after the publication of "Frankenstein," he committed suicide. Mary, during the summer of 1816, calls him "her brother" in her diary, but by the time her novel was published in 1818, she gives no mention of his name. I found that fascinating, and I wanted to examine that dynamic and understand the reasons why she might have shut him out. Both the vampire and Frankenstein's monster were born from their friendship, and those two creatures are immortal in the horror genre even today. I read their diaries and correspondence, and that really helped me flesh out my characterization as I wrote. Polidori also appears as a character in my vampire series, The Blood Royal Saga, and so I'd done a lot of research to prepare to write about him for that as well.
DBRL: How would you pitch the horror genre to someone who is reluctant to engage with the material?
Remington: For me, horror is more about an interior journey of the characters. What do we do when confronted with true darkness? How do we cope or overcome? The best of horror is deeply empathetic, and it teaches us the resilience of the human spirit. So for me, that's what makes the genre interesting. It's not about the danger and fear we face so much as it is about the ways we react to those challenges. It shows us that courage is what matters most.
DBRL: Read anything good lately you'd like to recommend?
Remington: I read a wide variety of things. I really enjoyed "Frankenstein in Baghdad" by Ahmed Saadawi. The book was shortlisted for The Man Booker International Prize in 2018, and it shows the way horror fiction and humor can be united to tell stories that are revealing of human nature. I've also recently read "Ararat" by Christopher Golden. He's a master of suspense horror, and I really loved the adventure and his cinematic storytelling. And I've just finished reading the YA novel "A Curse So Dark and Lonely" by Brigid Kemmerer. I love the way she was able to take the well-worn fairy tale setting of "Beauty and The Beast" and turn it into something fresh and exciting with surprises on every page. The characters kept me engaged from beginning to end, and I cannot wait to get started on the next book in the series. Also, if you enjoyed the forward for "Dark Conjurings," which was written by Sarah Read, she won the 2020 Bram Stoker Award for her amazing debut YA novel "The Bone Weaver's Orchard." Also her short story collection "Out of Water" was a 2020 Bram Stoker Award Nominee. Her writing is truly fantastic, and I highly recommend her work.
DBRL: Where can readers get copies of your books?
Remington: Skylark Books here in Columbia has all three books in my Blood Royal Saga vampire series. You can also find my books on Bookshop.org or go to my website DeliaRemington.com to find out where to buy them online or at a store near you. You can also sign up for my newsletter there and read sample chapters of my work.