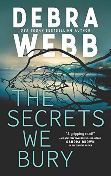 "The Secrets We Bury" is a good mystery/suspense book that doesn't make the main character seem like an idiot. I prefer this genre but this is the only book I've read so far that's actually had moments that creeped me out. It flowed perfectly so there was never a time I felt bored, which I personally find rare. I can usually predict how a book is going to end or who will be the main culprit but this actually surprised me a little. If you like murder mysteries or the suspense genre, I recommend this book for sure.
Three words that describe this book: Good suspenseful read
You might want to pick this book up if: You like murder mysteries.

-Courtney