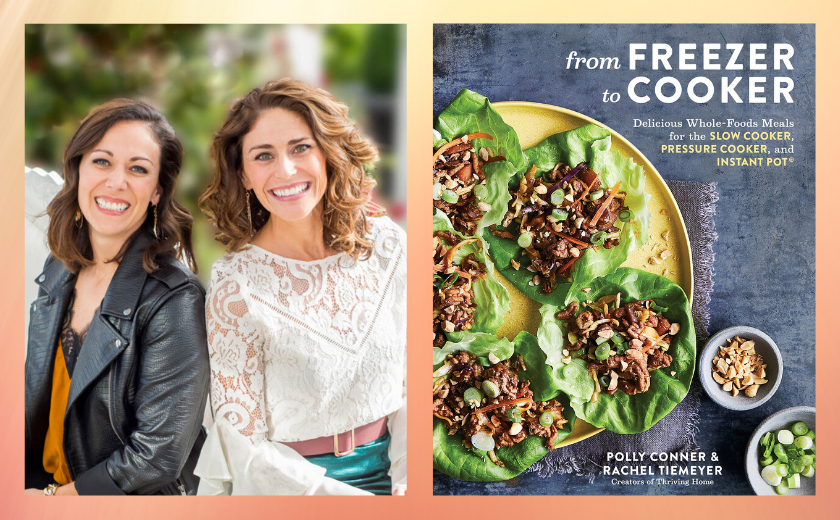 Polly Conner & Rachel Tiemeyer are Columbia, MO authors whose latest book is "From Freezer to Cooker." It's a cookbook full of recipes for the Instant Pot or slow cooker, as well as simple freezer meal instructions at the bottom of every recipe so readers will never be more than a few minutes away from a tasty and healthy homemade meal. Conner & Tiemeyer are the founders of Thriving Home, a down-to-earth lifestyle blog that has become a leader in the freezer cooking space — these time-strapped moms of three (each!) jokingly refer to themselves as "freezer meal evangelists." They have previously written "From Freezer to Table," a cookbook that contains more than 75 simple recipes for freezer cooked meals. I emailed some interview questions to them, and they were kind enough to take time to write back some answers.
Daniel Boone Regional Library: Did writing your latest book change how you feel about slow cookers or the Instant Pot? Which one do you now lean on the most for your cooking?
Polly Conner & Rachel Tiemeyer: Our experience with many slow cooker and Instant Pot recipes in the past, like so many others' experiences, were with boring, colorless, bland, and/or overcooked meals. We really wanted to change that perception in "From Freezer to Cooker."
In order to make our cookbook appealing, we had to get creative with the types of recipes for the slow cooker and Instant Pot. We really tried to reach beyond the stereotypical recipes you typically find for these cookers and create recipes with a variety of tastes, textures, and serving options.
We also worked really hard to find the perfect timing for recipes. This was also a huge challenge because there is so much misinformation out there about how long you should be cooking meals in the slow cooker and Instant Pot. We tested and tested and tested some more.
On top of that, we created recipes that are freezer friendly! Every recipe in our cookbook works from fresh or from frozen.
We both use recipes from this book in our homes regularly. Rachel reaches more for the Instant Pot, and Polly tends to use both cookers pretty equally.
DBRL: In both of your books you adhere to at least four goals for your recipes: They must be delicious, freezer friendly, easy to prepare, and contain whole foods. Which of these goals have been the hardest to fulfill when creating recipes?
Conner & Tiemeyer: Any of these on their own are fairly easy to attain. It's when you try to adhere to ALL of these goals in an entire collection of recipes, the challenge really comes in.
I think where we really stand out is making freezer friendly food delicious. When people think of freezer meals, they often imagine mushy, beige food or frozen leftovers. We are on a mission to show people that freezer meals can taste GREAT! In fact, our post of 70+ Freezer Meals on our website has been one of our most popular articles for YEARS. People have learned to trust that our methods WORK and save them time and money (and sanity in the long run.)
DBRL: You both started the Thriving Home blog in 2012. How has the work on the blog prepared you to write books together?
Conner & Tiemeyer: To be honest, we never intended to write cookbooks. In fact, we turned down the first two publishers that approached us about the idea! However, when we realized that we had expertise in a niche that there wasn't a great cookbook for, we saw a great opportunity to create a product that would really help people.
Blogging for years before writing cookbooks gave us lots of practice developing recipes, communicating information clearly and concisely, experience with online marketing, and helped us build up a very loyal fan base. In fact, many of our readers tested recipes for both books and helped us get the word out when the books released. There is just no way we would have gotten a cookbook deal without the years of blogging before it.
DBRL: What advice do you have for people who might pick up one of your books and be intimidated by the recipes? Is there one recipe in your latest book that you'd recommend for beginners?
Conner & Tiemeyer: We know our primary audience is made up of busy moms who don't have a lot of time to cook or to hunt for unique ingredients. We made it a priority for our recipes to be approachable and broken down into steps that the most novice cook can understand.
In short, we really hope our recipes aren't intimidating! But, if you're starting with one simple recipe from "From Freezer to Cooker," we'd recommend Vegetarian Tortilla Soup. It's a healthy, delicious, "dump and go" recipe that's hard to mess up.
If someone is intimidated by cookbooks, we also provide 1 Hour Freezer Prep sessions that include a free video tutorial. This has been really helpful for those who need a little extra help in the kitchen.
DBRL: Have either of you read anything good lately you'd like to recommend?
Conner: I LOVE to read! Even though I love a hard copy to flip through, as a busy mom of three kids, I'm almost always listening to audio-books. "The Giver of the Stars" is one of my most recent favorites. "American Dirt" was an incredible book and "The Couple Next Door" was a great mystery that I couldn't put down.
Tiemeyer: I spent much of the pandemic year re-reading all the Jane Austen novels and re-watching most of the film versions. A great joy of mine this year was that my 12-year-old daughter also read several of them, too. Austen's novels were the perfect "escape" during Covid.
DBRL: Where can readers get a copy of your books?
Conner & Tiemeyer: Any major bookseller has them available or we sell autographed copies through our website, too.
www.fromfreezertotable.com
www.fromfreezertocooker.com
They make a great gift for new moms or newlyweds.