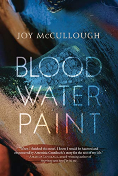 I read "Blood Water Paint" as part of an online book club. I'm so glad that it was the club's pick, because otherwise, I probably wouldn't have picked it up — it was such a unique and intense experience! It is written mostly in verse, but don't let that put you off — the poetry is beautiful and quite accessible. There are intermittent chapters written in prose, and they were my favorites due to their content: the main character, Renaissance artist Artemisia Gentileschi, remembering the stories that her mother had told her about strong women in history. There's a theme throughout the book of women telling stories about women (especially those of women being abused and standing up for themselves) to girls/women because we need those stories and the boys have their own stories of warriors and kings . But I wish that the boys had BOTH stories — otherwise, how is anything ever supposed to change? I'm inspired by this book to strive to tell stories halfway as well to my own daughter as Artemesia's mother did to her — and if I had a son, I'd sit him down right there next to her.
Three words that describe this book: Beautiful, raw, true
You might want to pick this book up if: You are interested in the Renaissance art world and/or gender issues. Trigger warning: rape.
-Erin