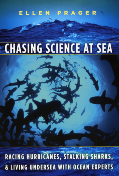 The book "Chasing Science at Sea" is filled with the experiences of many, many scientists and researchers whose work brings them to the coast, the shorelines, the open seas, and underwater to coral reefs, ocean trenches and other fascinating places. In lay language, Prager helps to illuminate what these scientists are doing, and why science at sea matters to so many different fields within science. Their true stories are as gripping as any sea novel or movie. Some of the stories are funny, some are alarming, and they opened my eyes to how challenging it must be to work in these environments.
Three words that describe this book: Lively, surprising, humorous
You might want to pick this book up if: You are a Midwesterner (or anybody) wondering what it would be like to explore the oceans in real life.
-Lynn
This reader review was submitted as part of Adult Summer Reading. Submit your own book review here for a chance to have it featured on the Adults Blog.