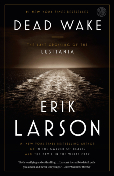 "Dead Wake: The Last Crossing of the Lusitania" is the true story of a large passenger ship on a trip across the Atlantic. In 1915, The Lusitania carried passengers from the US to England during the middle of World War I. The Lusitania was sunk by a German submarine, as she was completely without the protection of the Royal Navy. I really enjoyed this book because I like the history of submarine warfare, and I also liked all the details the author got into. I never knew anything about the Lusitania and I feel like by reading it that Larson was able to really let me know what it felt like to be on that ship, and start to understand the horror of its sinking.
Three words that describe this book: History, Tense, War
You might want to pick this book up if: You enjoy naval history, world war history, or anything taking place on the ocean with lots of details. Early submarine warfare is also described a lot.
-Robbie
This reader review was submitted as part of Adult Summer Reading 2022. We will continue to share these throughout the year.