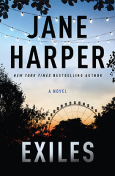 I am not a fan of the thriller/mystery genre, per se, but a fan of good writing, good characters, complex relationships and a good story line. Jane Harper does all of these good things in her Aaron Falk Series. All the stories are set in rural Australia and center on Federal Agent Falk.
When I read "The Dry," I was captured by the landscape (dry), a compelling storyline, and a complex main character. It was quickly turned into a movie of the same name, which was a top-grossing film in Australia. The second book, "Force of Nature," was set in an entirely different part of Australia, a thickly-forested mountainous area, which was as much an element of this story, as was the outback in the previous novel. The story was entirely different and yet hugely compelling. It is set to be released as a movie this fall.
I just finished the third (and supposedly last) novel in the series, "Exiles," which is set in a rural area north of Melbourne. It is my favorite of all three novels. Again, the setting is hugely important to the feel and plot of the novel; Agent Falk is still complex, developing even more in this novel, and the plot is a thrilling build-up to several unexpected conclusions.
Three words that describe this book: compelling, beautifully-written, complexly-charactered.
You might want to pick this book up if: you want to go to a setting you've never experienced, learn about complex family and small-town relationships, feel carried away by a well-developed plot.
-Woody
This reader review was submitted as part of Adult Summer Reading. We will continue to share reviews throughout the year.