"Frontier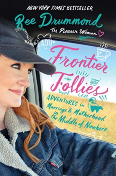 Follies" is written by the author, blogger, and chef Ree Drummond. She talks about life, marriage, motherhood and her adventures in the book. I love how down-to-earth and relatable it is. There were moments that had me laughing and a couple times tearing up. She seems so genuine and I loved hearing stories about her husband, their four kids and their adventures on the ranch. She shared some yummy recipes that were fun to try as well!
Three words that describe this book: Geniune, light-hearted, comical
You might want to pick this book up if: You are a wife or mother looking for a quick, easy read that is relatable. You wont want to put it down!
-Anonymous
This reader review was submitted as part of Adult Summer Reading 2021. We will continue to share these throughout the year.