Editor's note: This reader review was submitted as part of Adult Summer Reading. We will be sharing more throughout the year.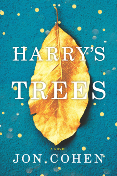 I don't remember how "Harry's Trees" got on my radar or on my to-read list, or even how it ended up being the next one I read. But oh my, what an enchanting book. How can you not fall in love with a book about trees?
I wasn't sure at the start — there were some men who turned my stomach in this book and I wasn't sure I'd be able to continue. But Harry, Oriana, and Amanda won my heart with this story of trying to heal what seems beyond healing. And really, the parallels between fairy tale and real life are just beautiful. Everything is tied together so seamlessly. Truly, a lovely book.
Three words that describe this book: enchanting, heartwarming, affirming
You might want to pick this book up if: you love fairy tales.
-Katheen